After spending the last two days out in the picturesque towns of Furano and Biei, we were back in the city of Asahikawa, Hokkaido's second largest city after Sapporo. It was day 8 of our epic Hokkaido road trip, and we were beginning to feel the strain of being on the road constantly.
As such, we opted for slightly more comfortable (and a bit more costly, too) digs at Asahikawa Art Hotel for our accommodation this time round. Arriving in the evening, we were in search of some good food, and we knew for a fact that there'd be plenty of it around here.
Heiwa Shopping Street
First things first – we decided to take a stroll up Asahikawa's main shopping district, Heiwa Shopping Street, to stock up on some food and drinks for the road.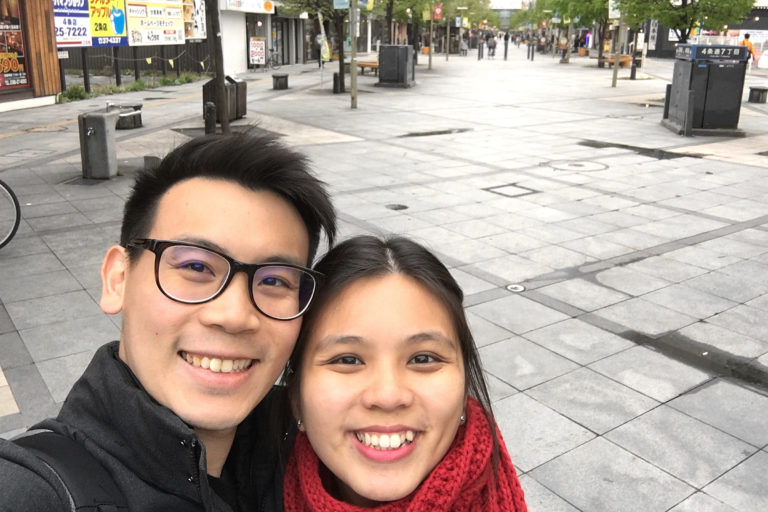 Ironically, there isn't much actual shopping to be done along the street itself. We spent far more time in the 100-yen shops, stocking up on snacks and cosmetics. Go figure.
Most of the real shopping can be found at AEON Mall, next to Asahikawa JR train station, which is located at the end of the street. We spent an hour or so browsing the stores, and I ended up buying a pair of Adidas shoes that were on offer.
Onwards to dinner. We were on the hunt for a pork cutlet and grilled beef restaurant called Jiyuken, but after walking in circles around the same area multiple times, we couldn't find it. Seems like it disappeared off the face of the earth!
We ended up settling for a local BBQ house, where we had some grilled beef and beer. Not too bad, but nothing fantastic, either. It wasn't particularly filling, too, so we consulted our friendly hotel staff, who recommended the famous Asahikawa Ramen at Ramen Sugawara, which was right across from the hotel.
Unfortunately, we stuck out twice – the shop was already closed! Disappointed, we went with two bowls of instant noodles that we had purchased at a 100-yen shop previously. Thankfully, they were actually pretty tasty and satisfying.
Otokoyama Sake Museum & Brewery
Turns out, we didn't have to worry much. We were in for an incredibly sumptuous breakfast the next morning, at the top floor of Asahikawa Art Hotel, which included the Asahikawa Ramen which we'd missed out on.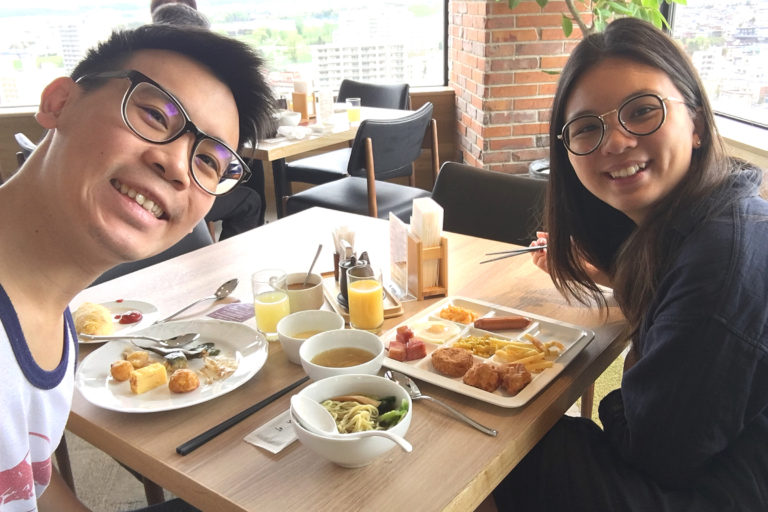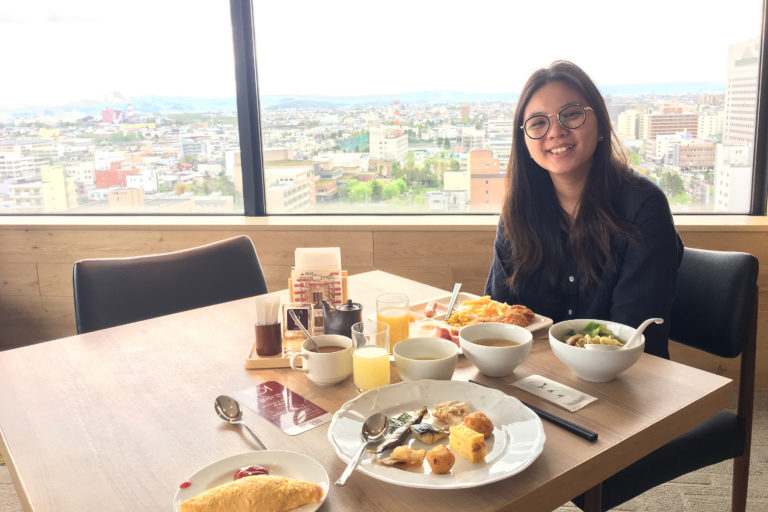 It was a happy morning for us, and it was about to get better. Our first stop for the day: the Otokoyama Sake Museum and Brewery.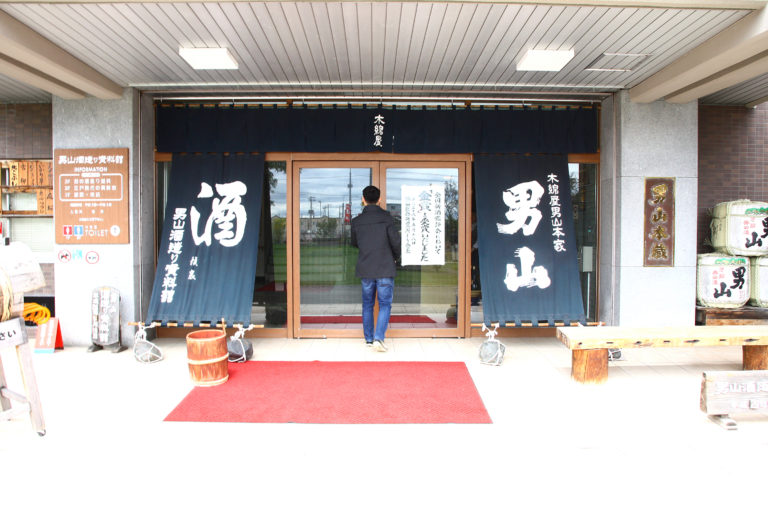 Otokoyama sake is akin to Sapporo beer, in that they're both internationally recognised and renowned brands. Here, you can get a look into the entire process of sake brewing, as well as all the equipment and materials that go into it. The museum also features ancient sake-related literature and art, allowing visitors to trace its origins back hundreds of years.
But let's be honest: we're here to taste the sake. And sake tasting, for the most part, is absolutely free. Which is very awesome.
The only sake that was not free to taste was their award-winning brand. Well-worth the 200 yen fee, in my opinion. Cheers!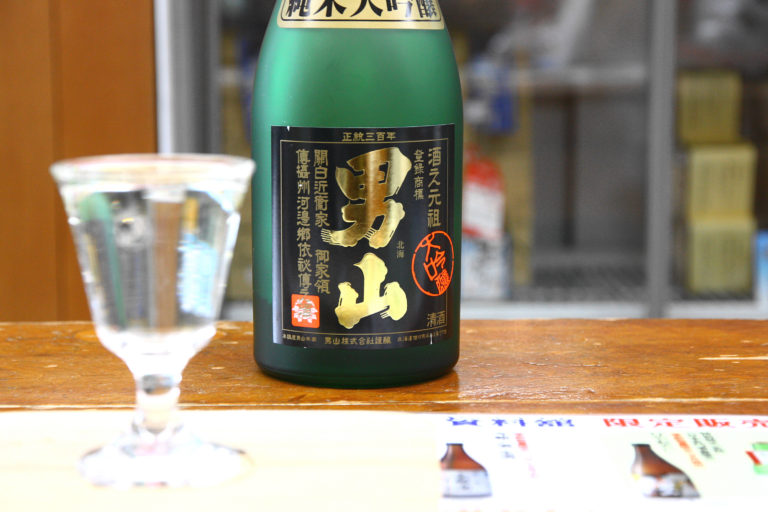 Do bear in mind that if you're driving, they will not allow you to try the sake (for good reason), so do make sure that one of your entourage is sake-free.
Most of the bottles here range from 1000-1500 yen, which is very reasonable. We ended up hauling 4 bottles – and maxing out our limit – back to Singapore.
Also, do remember to bottle up some of that refreshing spring water that's available at the front of the building. We saw some locals come by with huge containers, so presumably it is common practice to do so.
Time for lunch at another local hotspot: Asahikawa Ramen Village.
Asahikawa Ramen Village
Asahikawa Ramen Village features 8 of the best ramen shops in town in one convenient location. Well, not that convenient – you'll still have to drive out into the suburbs to find this place – but at least you'd be able to try out a variety of the famous Asahikawa Ramen right here.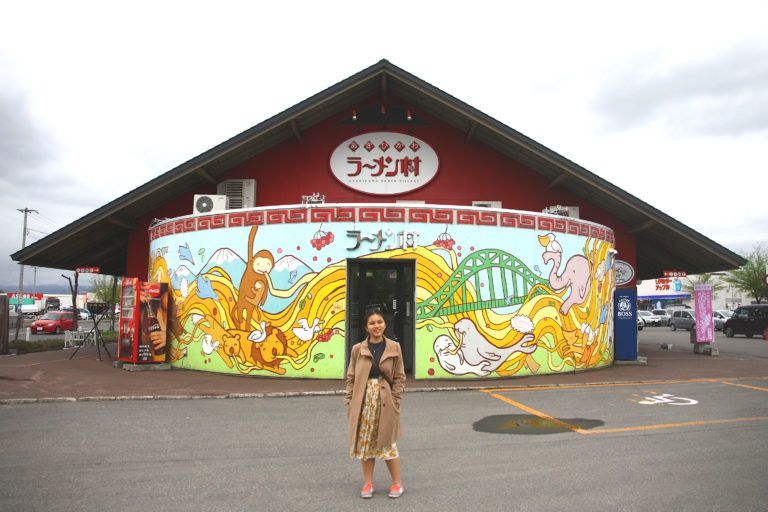 Otherwise, you can actually find most of these shops spread out across Asahikawa City.
To be honest, we couldn't quite tell the difference between the shops, other than judging by the length of the queue. In the end, we just went with our gut feel. And it was delicious – I have a feeling that you won't be able to go wrong with any of these shops, really.
Bonus: there's a massive Uniqlo outlet next door, in which we spent a good two hours or so. Worth a peek!
Right, time to leave Asahikawa and head to Shibazakura Takinoue Park, located in the town of Takinoue.
Shibazakura Takinoue Park
The tiny town of Takinoue is known for Shibazakura, or pink moss. In fact, the park stretches for some 10,000 m², most of which is covered in the brightly colored flowers.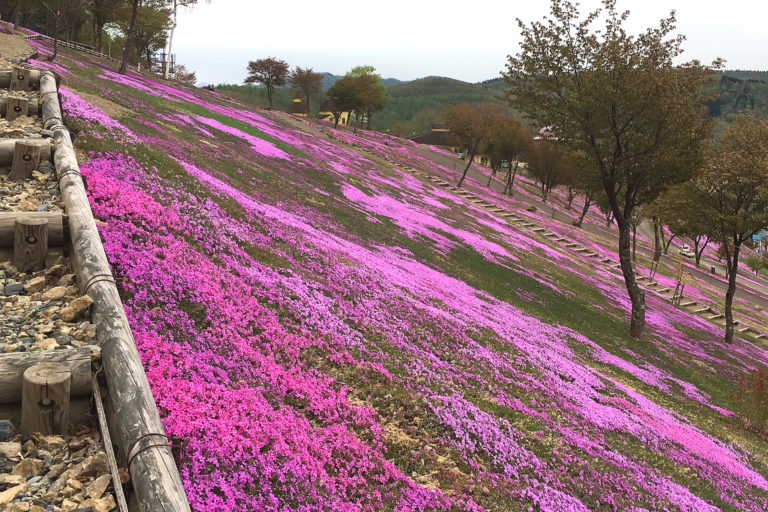 Jan couldn't have been happier to be here. Get ready for the photos…