Having been through a day of sightseeing outdoors, we were set on visiting more sights indoors today – the second day of our Jeju road trip. We had arranged it this way also because the weather forecast said it would rain today.
Seogwipo Olle Market
We started out by driving to the Seogwipo Olle Market, which was only 15 minutes away from our Airbnb. As one of the largest traditional markets in Jeju, this is the place to visit to immerse yourself in some Korean culture.
The market is spacious, with clear wet and dry sections. What intrigued me the most was this row of ahjumma (aunties), cleaning up and selling some small fish just in the middle of the path (pictured below).
The market hosts a variety food stalls as well, including traditional rice cakes, Korean fried chicken, hallabong (dekopon, a kind of citrus), and other Korean snacks. You can do some souvenir shopping here too!
As we already planned to have lunch at our next destination, we only grabbed some mandu (Korean dumplings), octopus bread, and rice cakes – enough to last us till our next stop!
Innisfree Jeju House
Prior to coming to Jeju, Innisfree Jeju House and O'Sulloc Tea Museum were the two most highly recommended places to us, albeit by young people. We knew we not only had to visit them, but also allocate ample time to explore the area.
Having said that, if you'd like to enjoy the place more, do schedule these two destinations on a weekday if possible. We were there on a Saturday, and it was real crowded.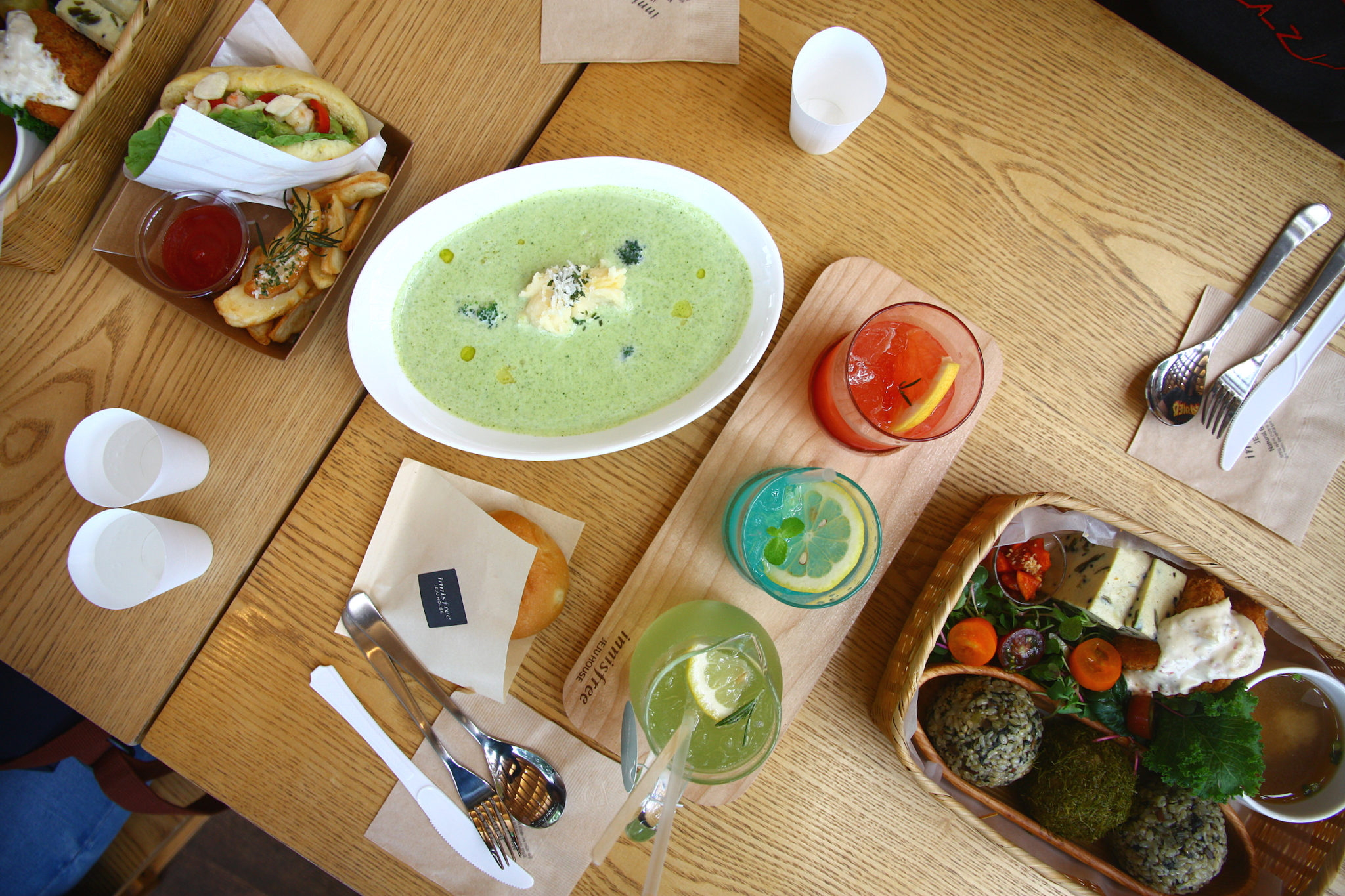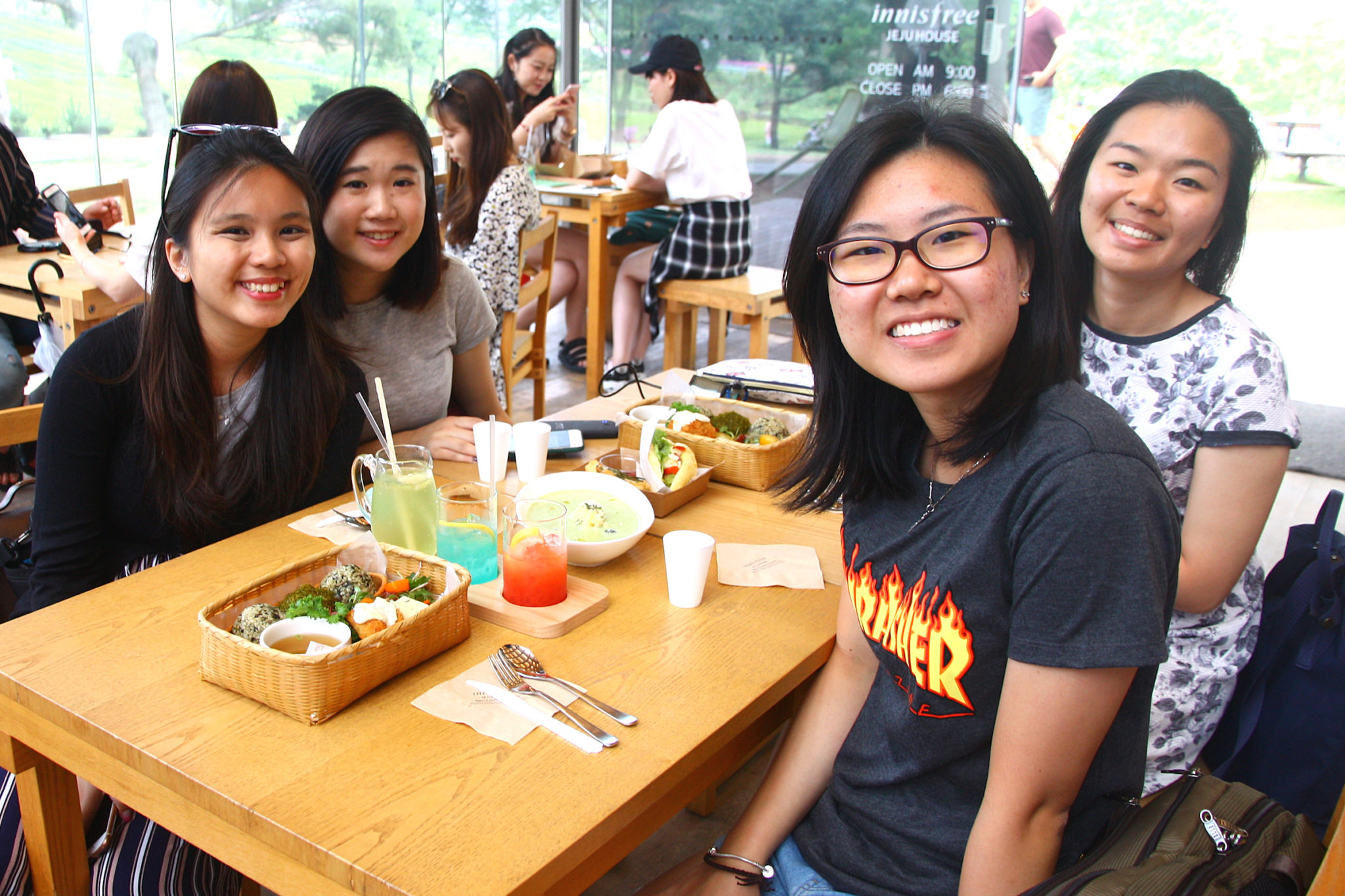 While the O'Sulloc Team Museum has some food items, they are mainly desserts and drinks. The cafe at Innisfree Jeju House offers more substantial lunch or dinner options.
Upon entering the cafe, we were thrilled by its vibe – minimalist, pretty, zen-like. This might sound strange, but even their washroom, just around the corner outside, was nice and relaxing! Hats off to their designers.
Despite being packed with people, we found a seat quickly, and went ahead to order. Everything looked so pretty, and tasted so good. I would love to be back for its atmosphere and food again!
The Innisfree Jeju House also offers natural soap making classes, cosmetics testing, making of your own mask, as well as free plain postcards for you to stamp on. Don't you love these experiential opportunities? I sure do!
O'Sulloc Tea Museum
After a satisfying lunch, we strolled around the tea plantations, and snapped loads of photos like we always do. We could've easily spent the entire day here, if not for an itinerary that we had to catch up to – and J, who exclaimed that everything looked the same after a while.
In that regard, I'd say allocate more time here only if you're into tea plantations, then walking 2 minutes to another patch of identical-looking plantation, and continuing to even more tea plantations. You get the idea.
Personally, I loved it!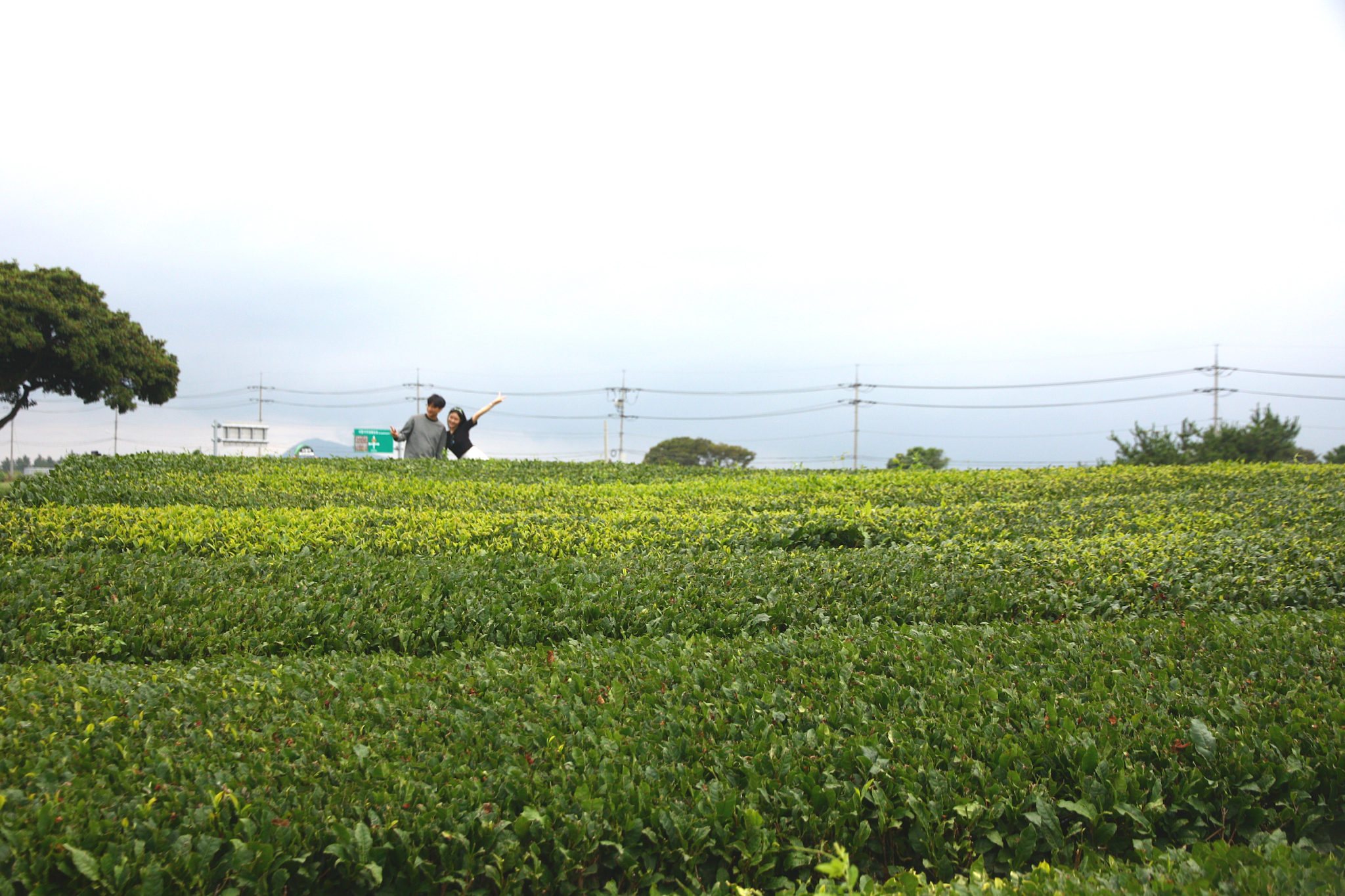 Just a 3 minute walk from the Innisfree Jeju House is the O'Sulloc Tea Museum building. Although it was bigger in terms of its space, it was way more crowded, perhaps because we ran into some tour groups.
That also led to J's GoPro camera being stolen in the washroom. Terrible, yes we know. We later spent 2 hours trying to find the GoPro canera, checking with the staff, and contacting the police.
Anyway, as we waited for the police to contact us again, we soldiered on to try out some of their green tea products at the tea house. I'm not a fan of green tea, but Y and J loved the green tea ice cream, and L fell so much in love with their roasted green tea, that she bought some back home as well.
Over at their retail area, there's a massive diversity of tea that you can buy home. A couple of them are offered for free tasting at regular intervals. They are not cheap, but they're unique and really good.
Each of us bought quite a number of different teas home. I got a box of Jeju Cameillia Flower Tea – it's naturally sweet, fragrant and remains one of my favourite teas to date. Snacks wise, the store also sells green tea milk spread, cookies and chocolates.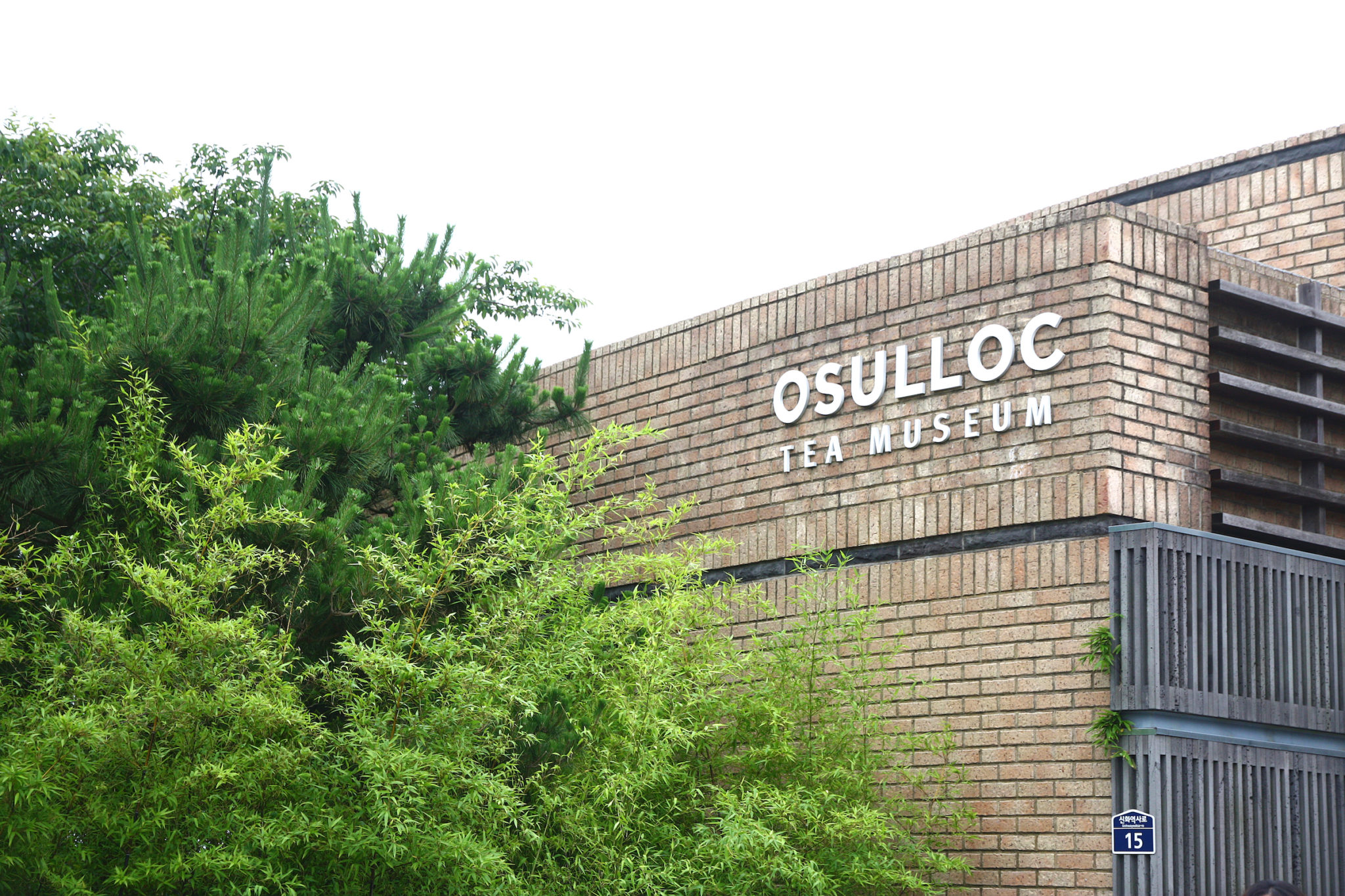 Despite the unfortunate incident we experienced, the Innisfree Jeju House and O'Sulloc Tea Museum areas are certainly worth an afternoon of your travel.
For us, having spent much time toggling around at O'Sulloc, we knew had to move on. We made a somewhat impromptu decision to check out Cafe Monsant, made famous by the long-standing rumour that it's owned by G-Dragon (GD) from the K-pop idol group, Big Bang.
Aewol Cafe Monsant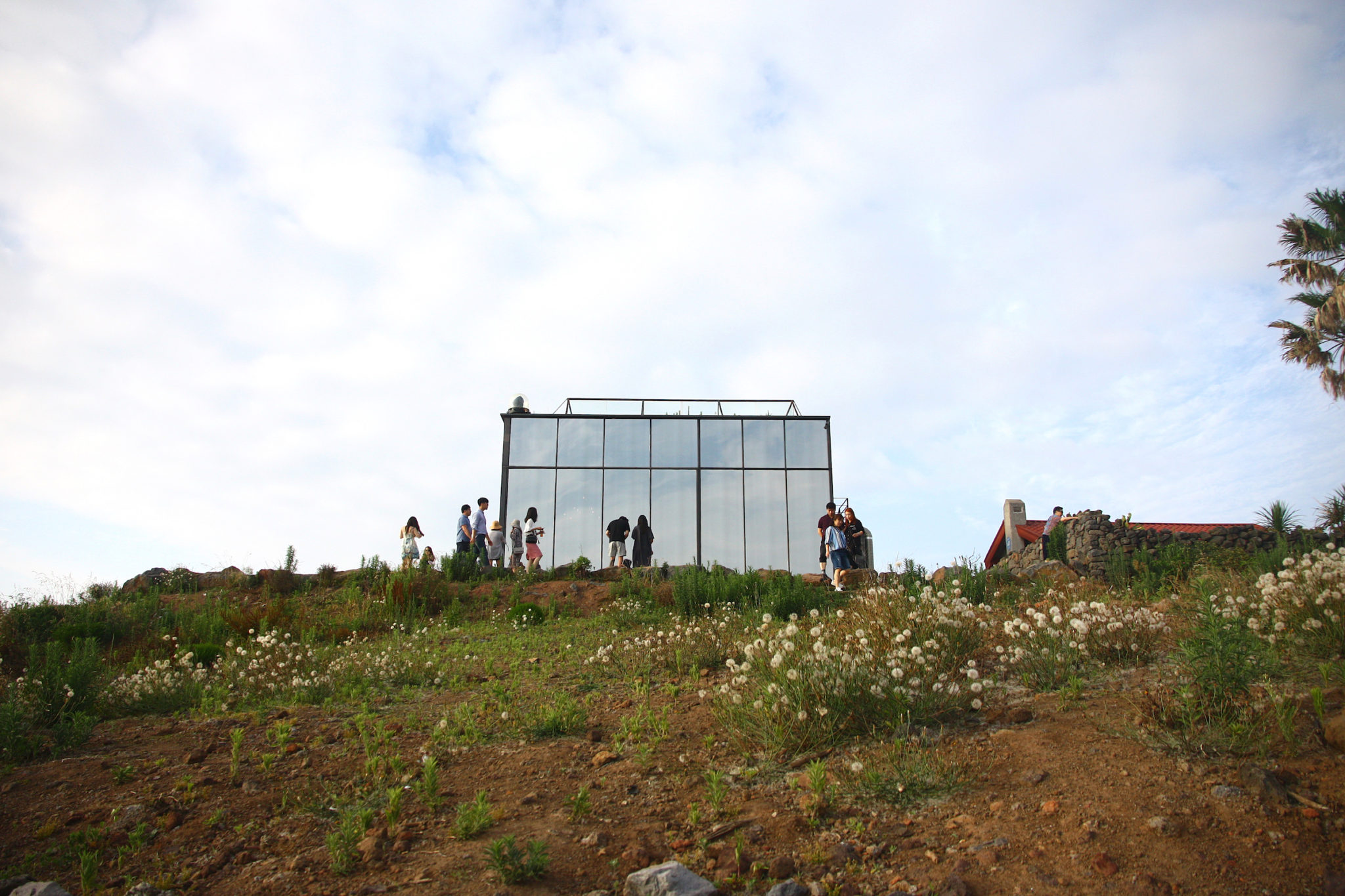 The best part about this place was the exterior architecture, alongside the fact that it's perfectly located by the sea. Definitely, head there in the evening to catch the sunset. The huge glass-mirror panels can be tilted open, reflecting the sunset at various angles. Ingenious!
The food and drinks in the cafe were expensive, so we gave them a miss. Instead, we continued with what we do best – taking photos. Also check out the boardwalk and the beach. The waters are crystal clear, and you can choose to take a transparent kayak out for some fun!
By now, the sun was almost setting, and we still had to go to the police station to officially file a report for the lost GoPro camera. The short story was that we spent another 2 hours, with the limited Korean J and L knew, trying to explain the story.
The poor policeman, who was watching the popular local Running Man TV series before we went in, even had to call a translator over (he stayed 30 mins away) for us to properly file the report.
Y and I also had to go nearby to takeaway dinner for us, and by the time we could leave the police station, it was completely dark. Not only were we unable to make it in time to find our new Airbnb accommodation when the sun is still up, we also had to navigate in the dark all the way through. When we finally arrived and found our new home for the night, we were exhausted.
Even though we'd much rather do away with such unexpected incidents in future, all we could do then, was to put our hands together and do a "woosh!" Thank God we made it safely, and thank God for friends who go through thick and thin together.
Next up: Day 3: Seongsan Ilchulbong Peak, Seopjikoji, Woljeongri Beach