If I'm being completely frank, Kuching would never have broken into my list of top ten places to visit in the next two to three years. To be fair, though, Jan and I are more into "road trip" type of itineraries, such as our recent forays across Hokkaido, as well as Tasmania a while back.
Jan even went on to share the joy of road tripping with her friends when they visited Jeju, too!
That said, we were still pretty excited about this opportunity to visit the much-adored capital of Sarawak, on the invitation of our lovely friends (thanks!), C and J, who were getting wedded there.
C is a true blue Kuching local, and if there's anything we love more than road trips, it's being brought around a fresh new place by locals who know the ins and outs.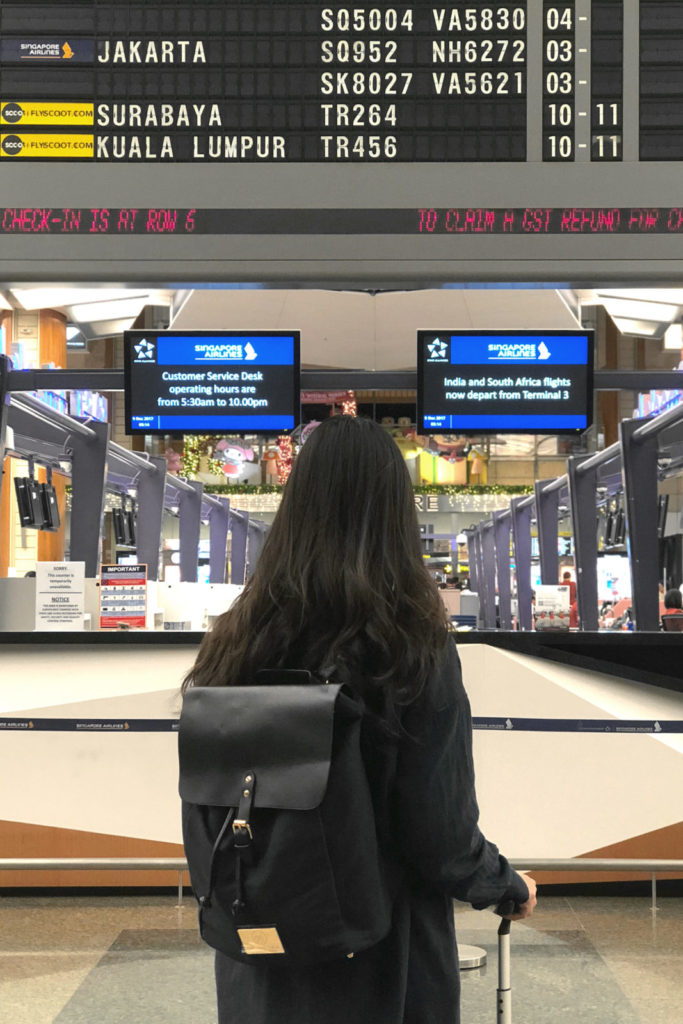 We also couldn't wait to take our new Gaston Luga backpacks (kindly sponsored!) out for a test run.
When it came to things to do in Kuching, we couldn't quite fill up our list with options. However, as we were about to find out, food is what Kuching is most popular for. And since we were being brought around by locals, we knew that we were going to get access to the best food in Kuching.
When planning your trip, do bear in mind that public transportation is not very accessible around these parts. Buses don't really follow any schedule, so you never know when they'll arrive and where they're going. Trains are non-existent.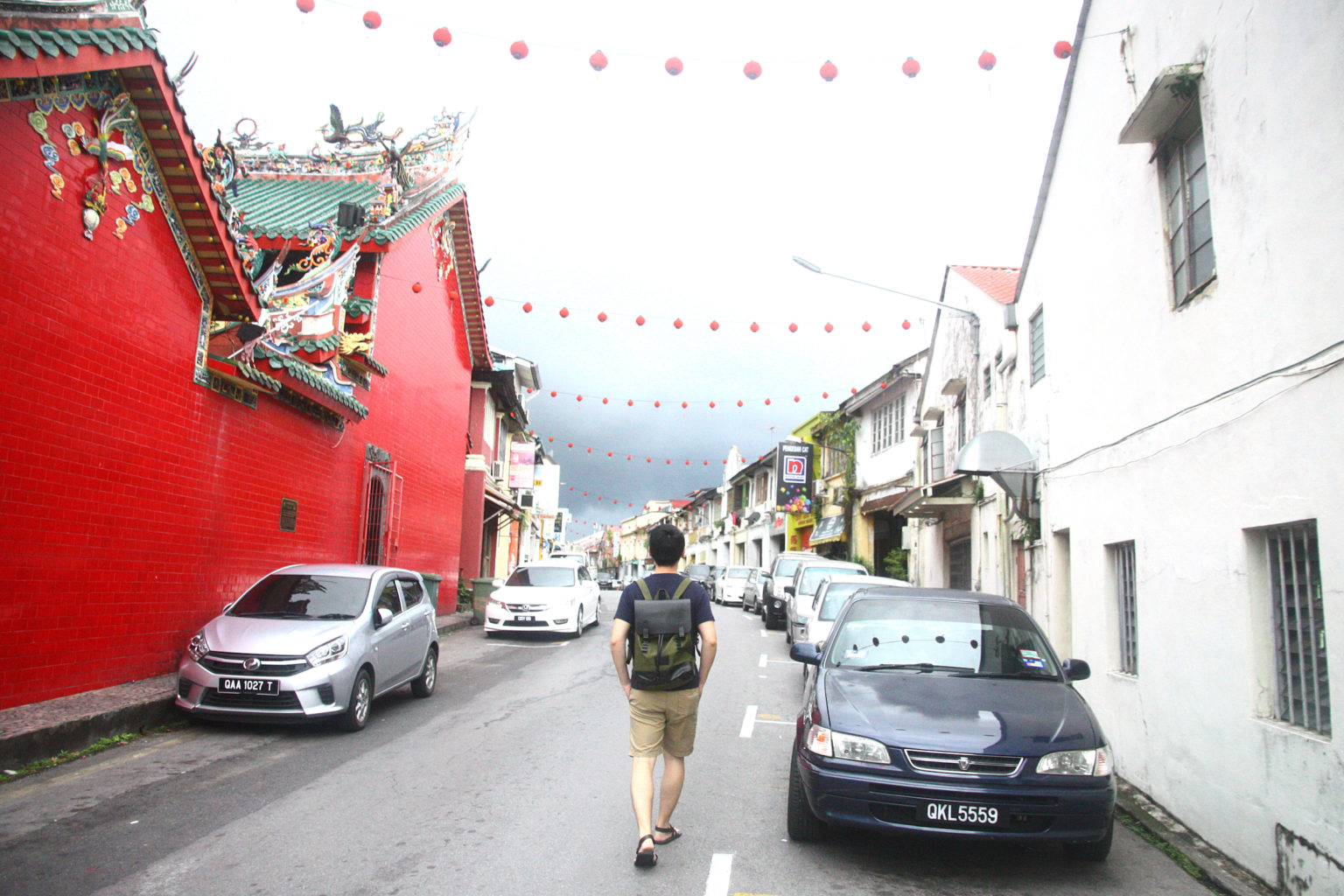 Since all the best food places in Kuching are scattered around the city, you'll likely need a friend to drive you around. Or, take a Grab and follow the route we've marked out for you (preferably across two to three days):
Many of these spots are situated near the Kuching Waterfront, though, so it'd make sense to situate yourself at one of the many hotels in that area, and head out from there. We stayed at Pullman Kuching, we had a great view of both the Sarawak River and Kuching City, depending on the room you are assigned:
Ready to follow along? Here are the places to go in Kuching where you'll get to taste some of the best dishes in Asia (not even kidding).
Kim Joo
We touched down in Kuching in the early morning, so decided to head straight to the famous Carpenter Street to get some breakfast. This particular street is well-known for its variety of delicious food items, and also for the lovely old buildings which span both sides of it.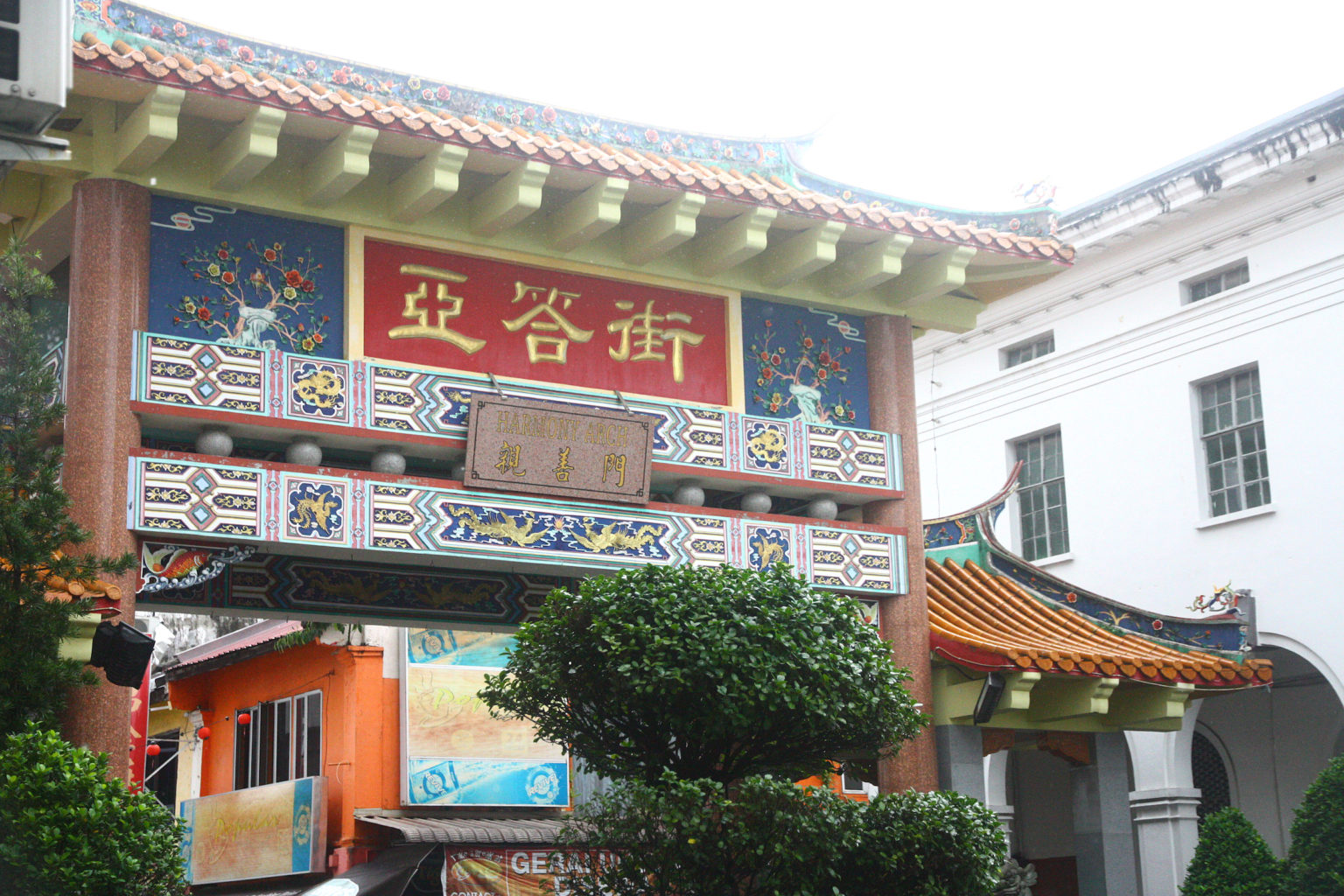 Like the street, Kim Joo is a coffee shop that has been passed down through three generations. Here, you can get (arguably) the best kolo mee in Kuching.
What makes it different from those from other countries and states is that it comes in two colors: white and red (i.e. char siew, or roasted pork, sauce).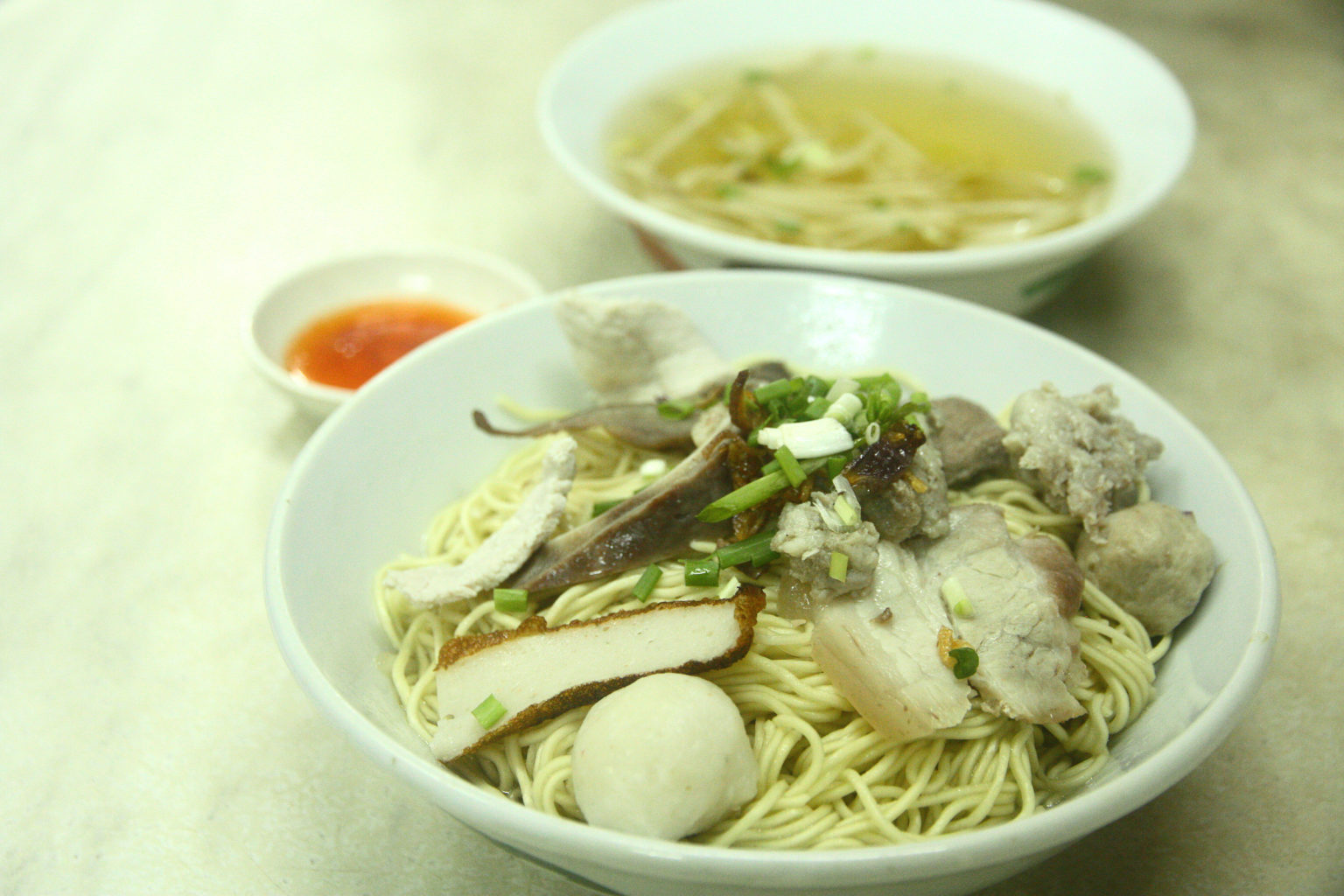 We opted for the white version. Although it looked a bit plain, it was surprisingly tasty, an excellent start to the day.
Black Bean Coffee
We topped the meal off with "the best coffee in Kuching," Black Bean Coffee, which is a stone's throw away from Kim Joo.
The fragrant coffee beans here are 100% local, originating from the southern region of Sarawak and then roasted by the store owner himself.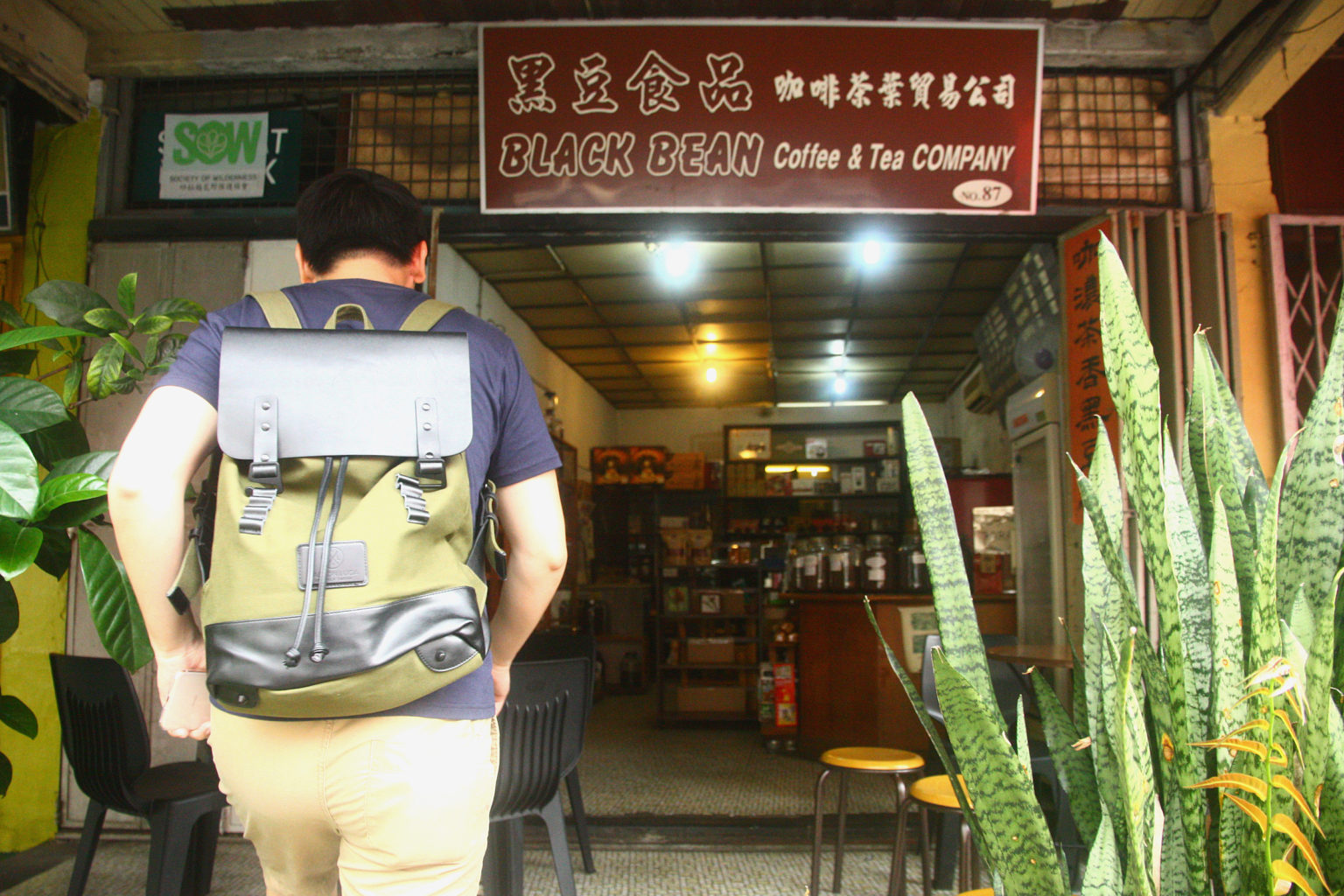 Fair warning: the taste of their coffee is a bit stronger than your usual store-bought latte.
We decided to add a scoop of vanilla ice cream in to balance things out, and it was perfect.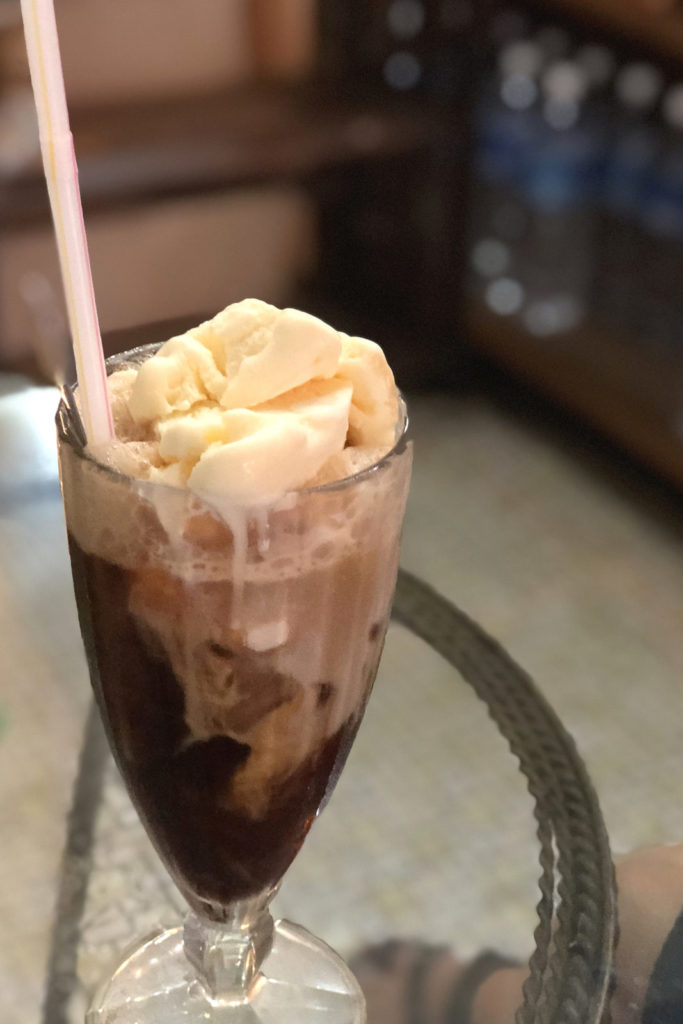 It was so good that we decided to buy a bag of coffee powder home, too!
Lau Ya Keng Food Court
The next place to visit along Carpenter Street would be the Lau Ya Keng Food Court. There are three food items you'll be able to try here: pork satay, fish ball noodle soup, and Sarawak laksa.
After trying all three, we highly recommend that you stick to the pork satay – the best Sarawak laksa in Kuching is not to be found here. You'll find that a few paragraphs down 🙂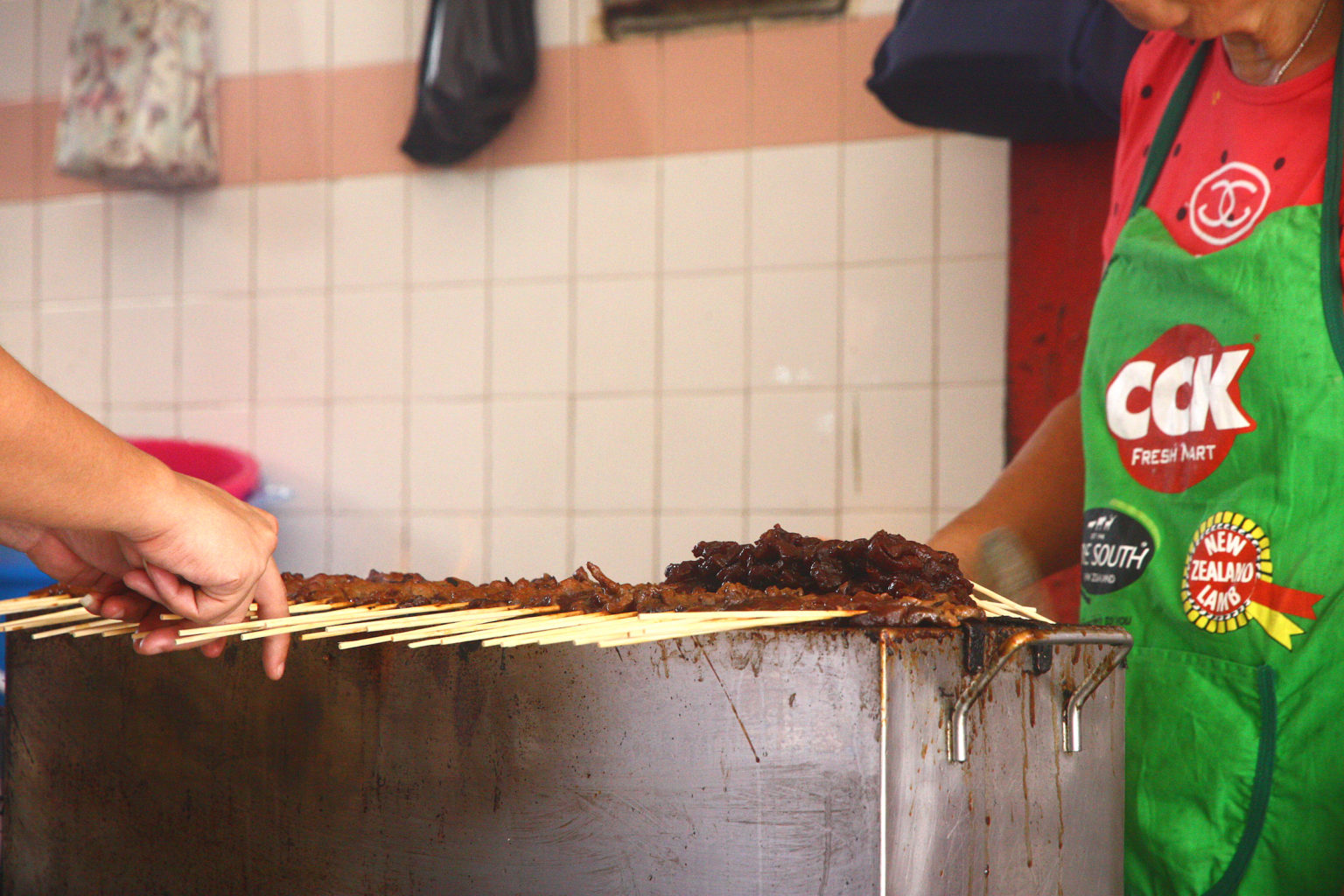 On the other hand, the charcoal-grilled pork satay is top-notch – in our opinion, far better than any satay we've tasted across Southeast Asia (sorry Singapore and Thailand!).
Even before the pork satay reaches the grill, it is soaked in dark gravy overnight, packing in all that glorious flavor.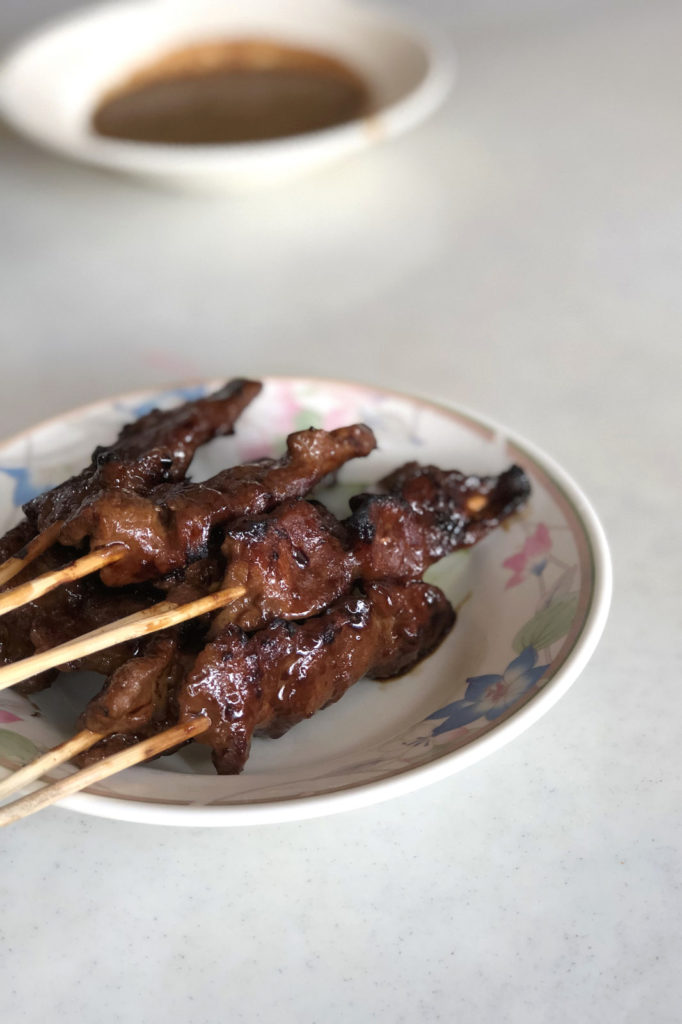 As expected, the queue here is extremely long. Also, don't expect any aircon – the only cool air at Lau Ya Keng Food Court comes from a few lonely standing fans, so be prepared to sweat it out!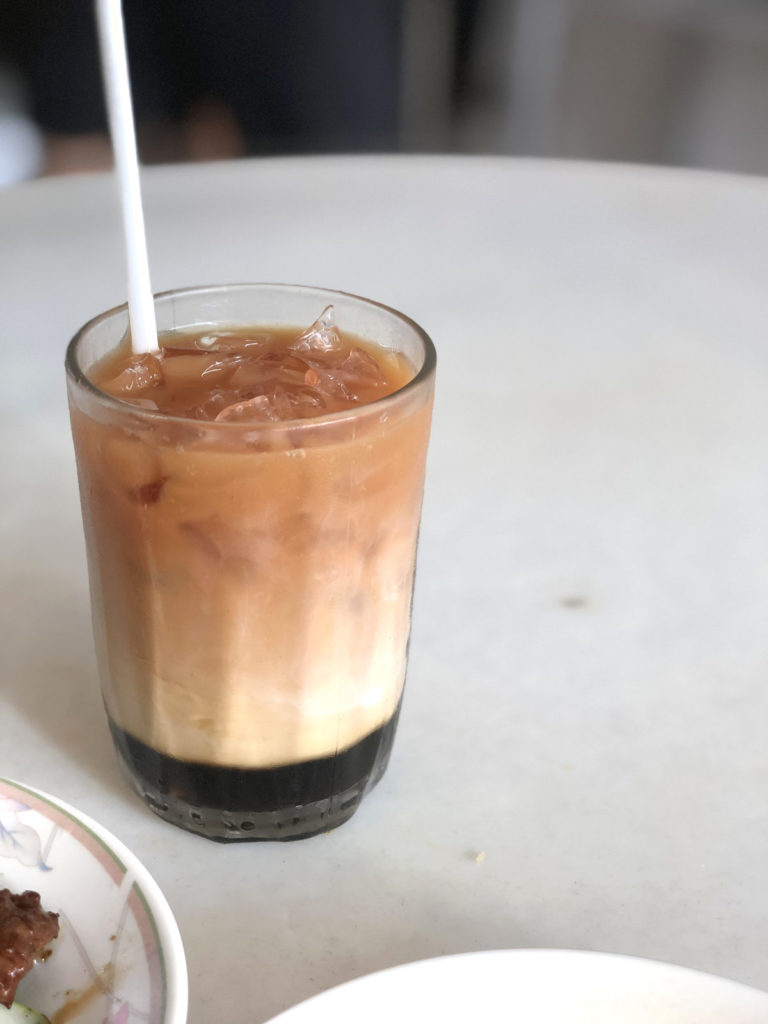 However, you can get some relief from the heat by ordering a cup of Teh C Peng Special (or iced tea with evaporated milk and gula melaka syrup), a drink unique to the Sarawak region.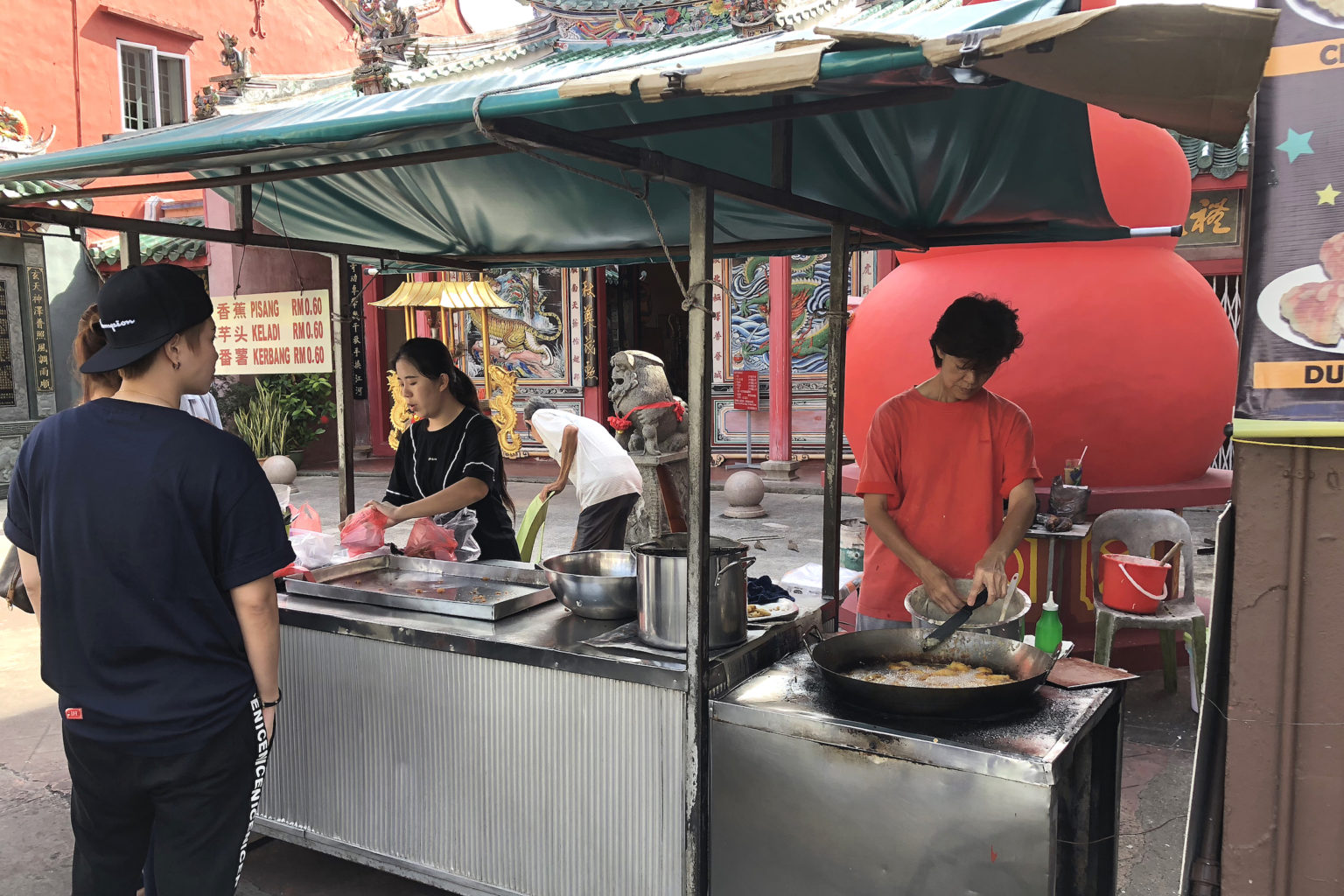 As a bonus, there is a small stall right across the road from the food court that sells crispy, delicious banana fritters (or goreng pisang). Hop over to snag some while waiting for your satay!
Chong Chon Biscuit Maker & Tong Kee
A short 5-minute walk from Carpenter Street will bring you to India Street, which mainly sells textiles.
We're here, however, for the baked buns and pastries at two of the finest confectionary shops in Kuching, Chong Chon Biscuit Maker and Tong Kee.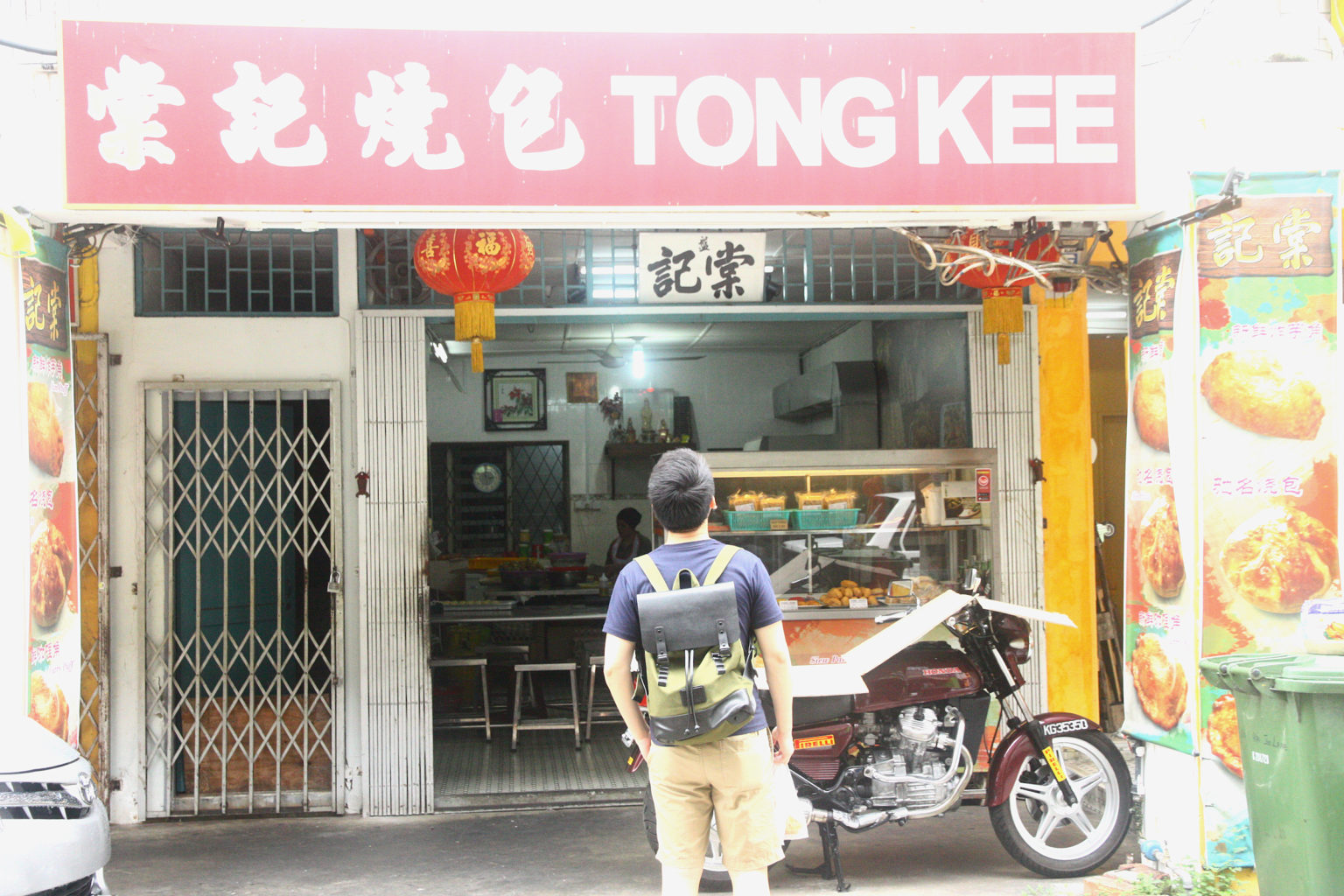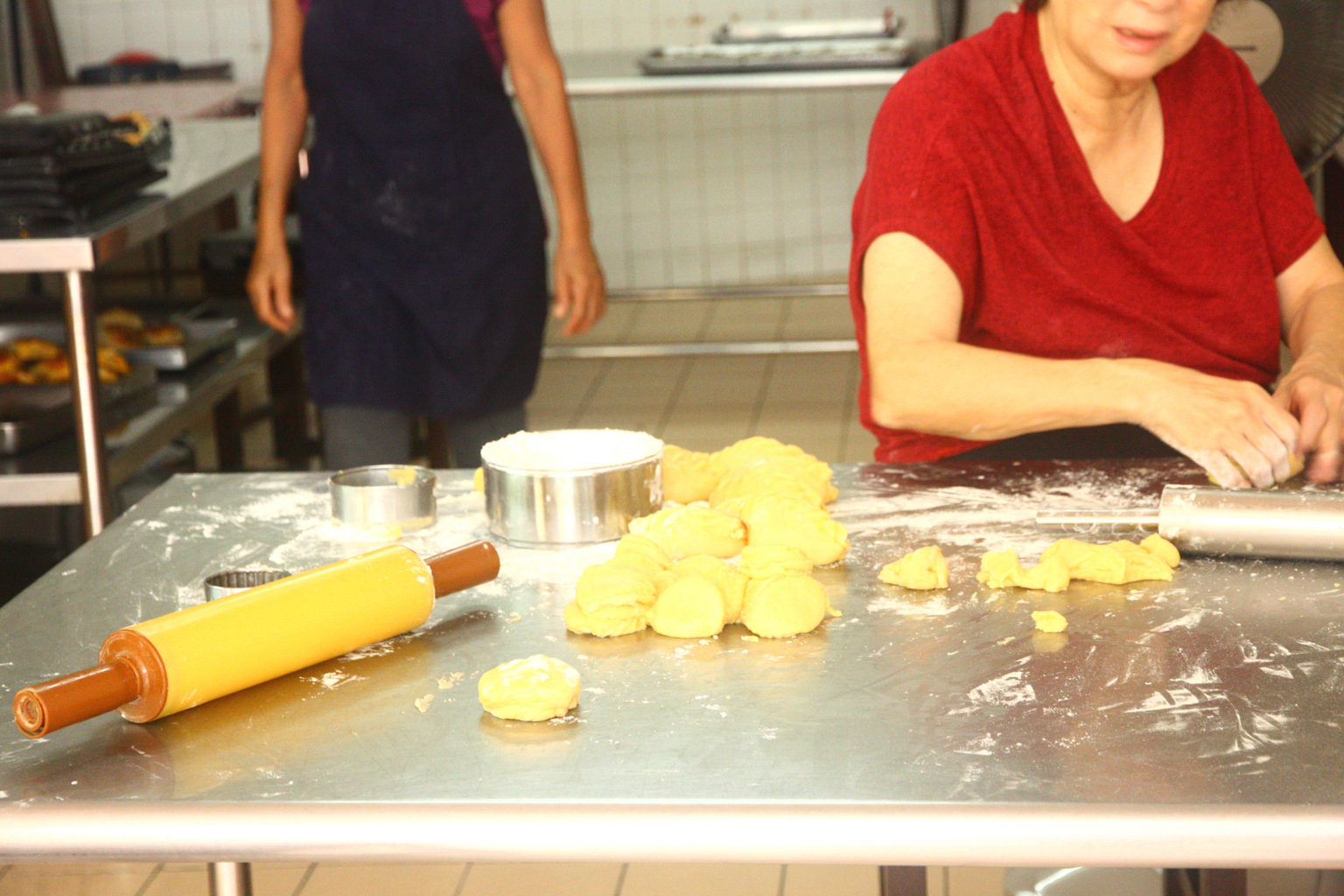 We tried the curry puff, egg tart, and siew pau (roasted pork buns) from both, and to be honest, couldn't quite tell the difference – both were equally good. Grab one from each store to try for yourself!
Top Spot Food Court
Regardless of where you are in the world, seafood is always a sought-after food item. Moving along the Sarawak River, you'll find Top Spot Food Court, one of the best places in Kuching to enjoy seafood while enjoying the waterfront view.
Unfortunately, we didn't have sufficient time to visit it this time round, but it was highly recommended by our local friends, so we think it's safe to add this place to the list.
Chong Choon Cafe
Slightly further down, you'll arrive at Chong Choon Cafe, which appears like an unassuming coffee shop from afar.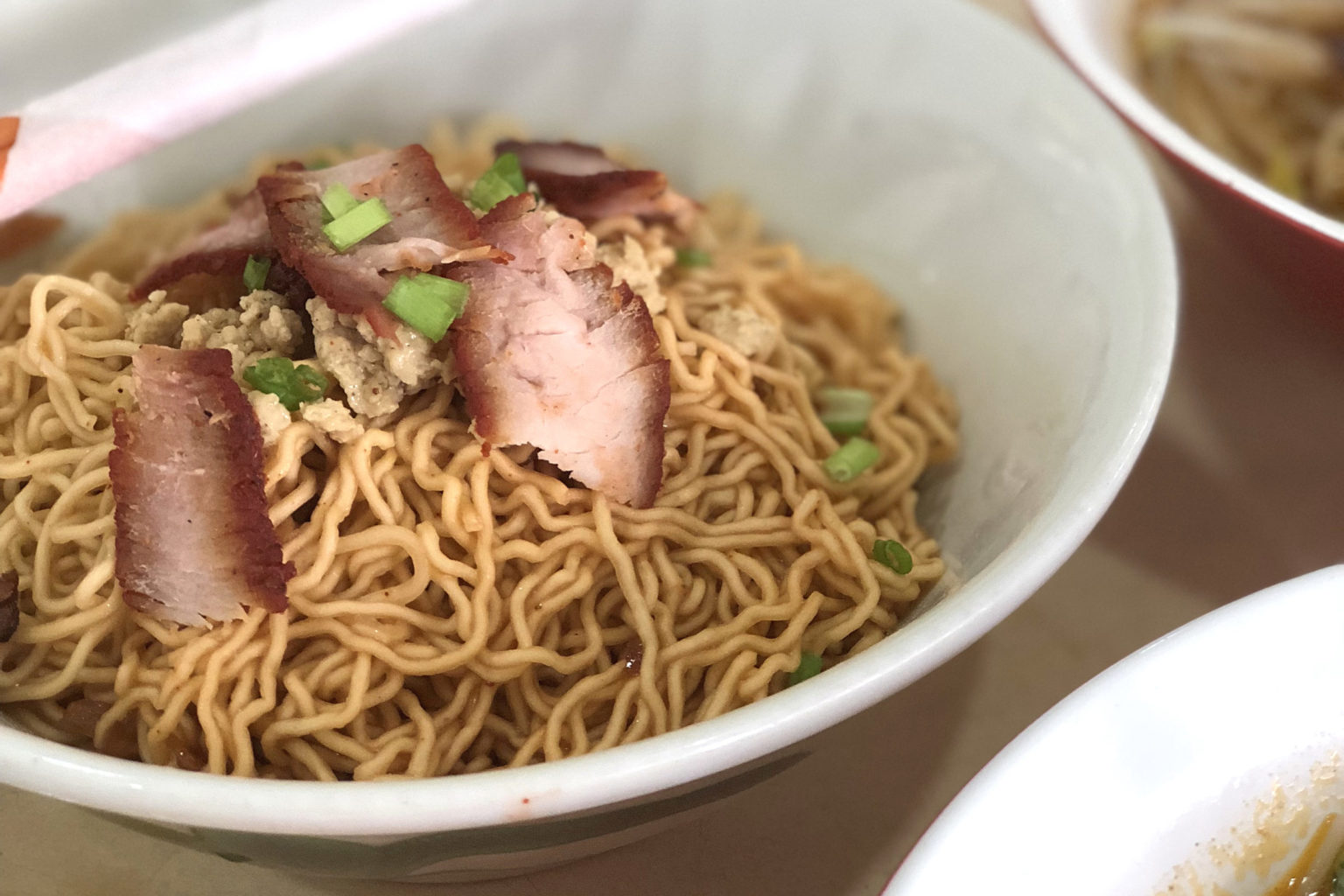 Once you walk in, though, that illusion falls away. It is constantly packed with locals and tourists alike, and for good reason – it sells all of Sarawak's greatest hits, such as kolo mee, Sarawak laksa, and thick kaya toast.
It is, however, most well-known for its Sarawak laksa, which most of the locals we consulted with agreed was the best laksa in Sarawak, Kuching, and probably the rest of the world.
Having tried it, we couldn't help but agree – not a single drop of soup was left after the meal.
Not too far away from here, however, is a strong contender to that title.
Choon Hui Cafe
Similar to the aforementioned cafe, Choon Hui Cafe is always brimming with customers, and serves local favorites like Sarawak laksa, kolo mee, and popiah (or spring roll).
This place, however, tends to have more tourists thanks to a certain celebrity chef who gave the Sarawak laksa here his endorsement a few years ago.
Honestly, we couldn't tell the difference – it was just as tasty and fragrant as Chong Choon's!
The popiah, with its chewy skin and sumptuous fillings, deserves a special mention. It was so good that we ordered a couple to eat, and a couple more to take away afterwards!
Commons & Tom's
Switching over to something lighter, we found two great dessert places in Kuching that are worth mentioning. The first is Commons, which can be found in the Kuching Old Courthouse.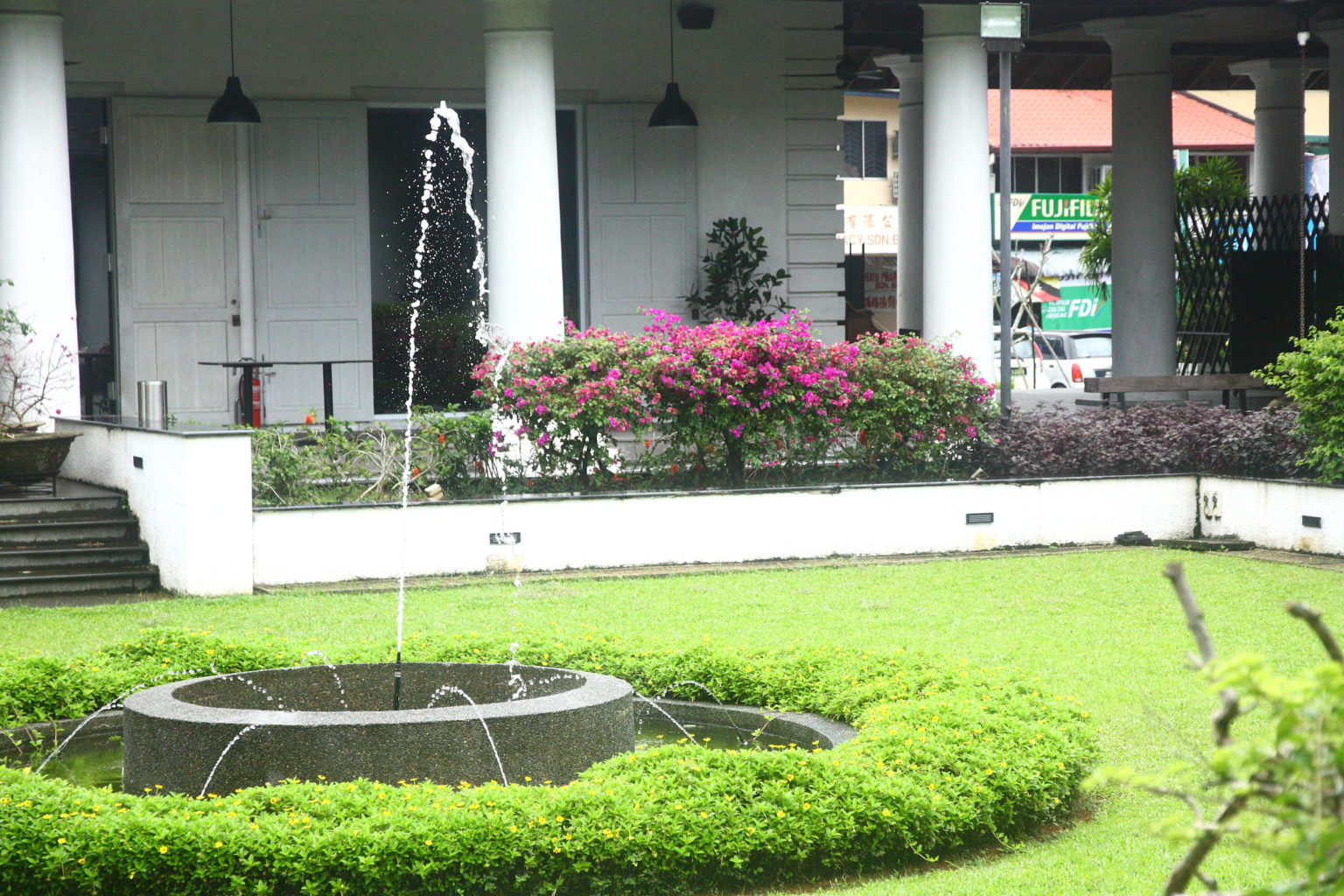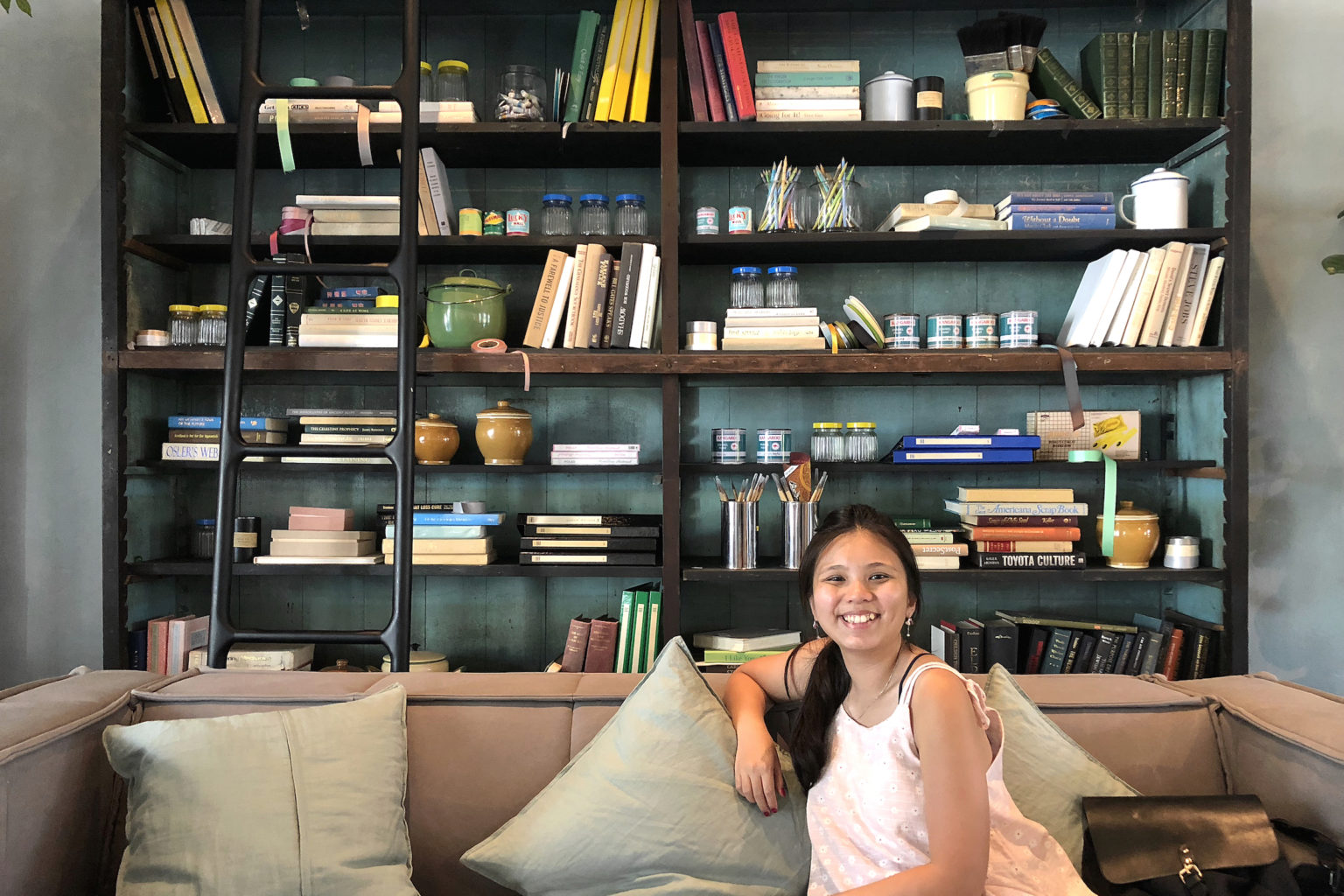 Previously the city's administrative centre, the historical courthouse building now houses a cafe, restaurant, and other interesting venue spaces. The cafe is called Commons, and has a great selection of cakes and desserts.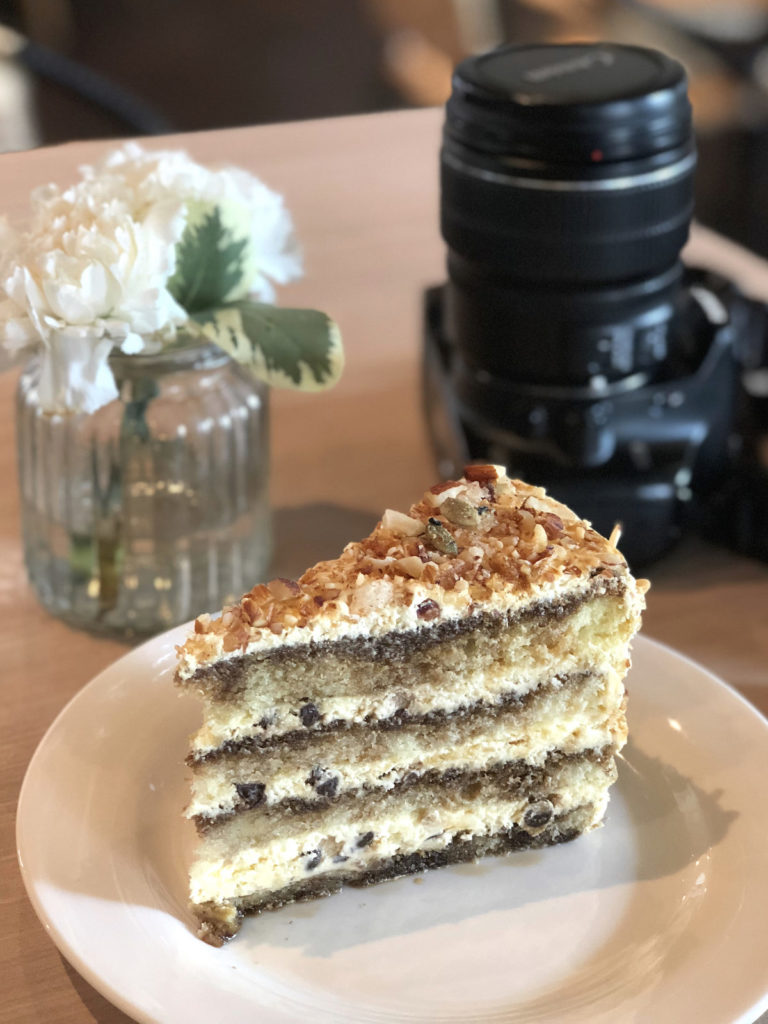 They also serve some heavier food items like nasi lemak, which we decided to try.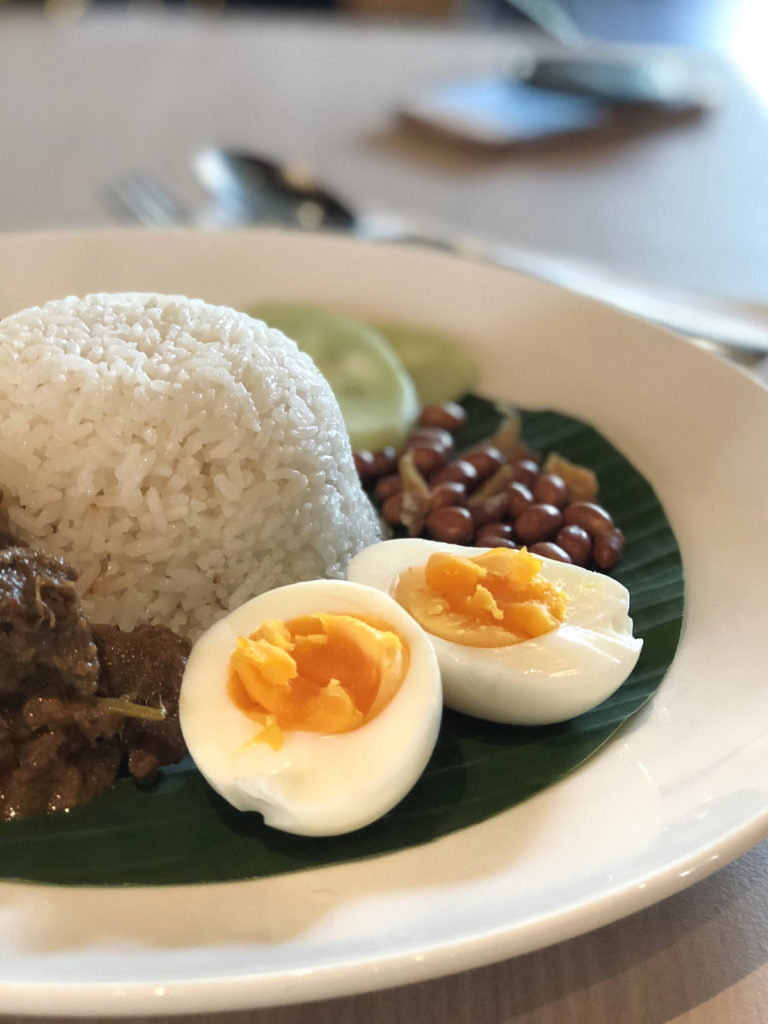 All in all, pretty good, though slightly costly. Only come here if you're looking for desserts, and want to get some reprieve from the hot and humid weather.
Further to the east is another cafe called Tom's, which has a good range of cakes and relaxed vibes. Again, recommended for a short break before heading out to find more local delicacies!
Lepau Restaurant
Speaking of local food, Lepau Restaurant is an interesting one. They serve authentic Kayan cuisine here – the Kayan people are the indigenous people of central Borneo – which was a nice change of pace from the usual food we were eating daily.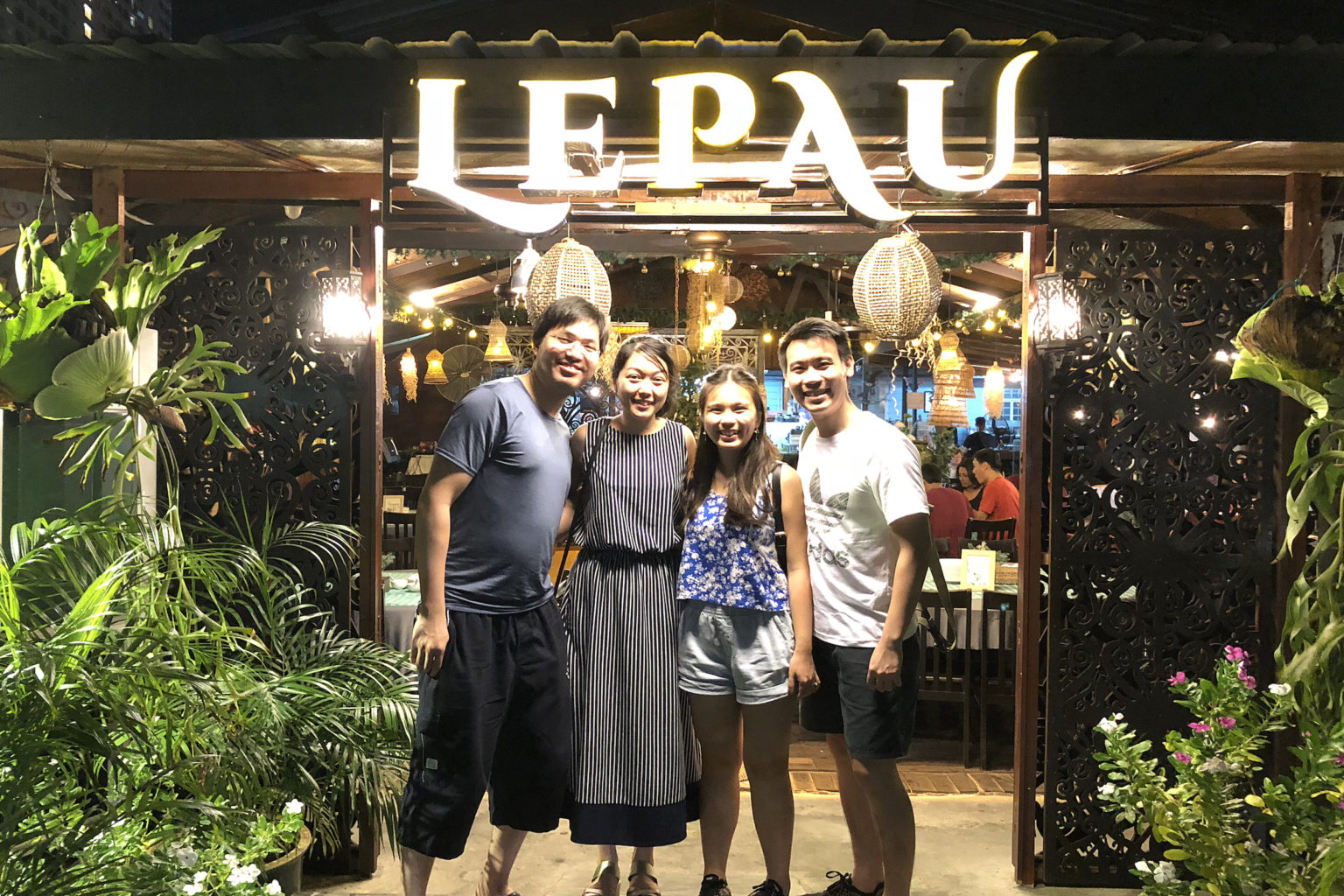 Here's what we ordered:
Fish Umai (sliced raw fish with a mixture of onions, chillies, salt, and lime juice)
Pansuh Chicken (chicken cooked in bamboo)
Terung Asam with Smoked Fish Soup (soup made with a type of brinjal that is indigenous to Borneo)
Stir-fried Midin (a type of wild fern that can only be found in Sarawak)
101 Food Center
Moving towards the south, allow us to bring your attention to the 101 Food Center, a food court that only locals seem to know – you wouldn't see many tourists around here.
It is quite literally a food heaven, with not just one, but multiple stalls for every type of food you would want to find in Kuching. Besides the food items we've already tried, here we got to add on fried carrot cake, oyster omelette, muah chee (or glutinous rice balls), kampua noodles, and our favorite durian!
We were more than spoilt for choice. If you only have time to visit one place for food, this is the place to be.
Expert Food Court
Another great all-in-one food court that's even further down south (which makes it pretty near the airport) is Expert Food Court. We actually visited both food courts in the same night, trying different food items at each, of course.
Our local friends, H and R, informed us that the pork satay here was actually better than those at Lau Ya Keng Food Court. At first, I found it hard to believe. But after trying it, I had to admit that it edged the latter out slightly because of its chewier texture.
Besides that, we also tried their roti prata (or fried flatbread), which was decent but nothing to shout about. I'd definitely make the trip down for the pork satay, though.
Earthlings
Back to coffee. If you're looking for something lighter but just as fragrant as the cuppa at Black Bean Coffee, Earthlings will probably be your best bet.
The moment I stepped into the cafe, I felt as if I had been teleported back to Melbourne, whose cafe and coffee culture is unrivalled. The coffee aroma was strong and heavenly, while the decor and vibes of Earthlings is very laid-back and relaxed.
The best part about this cafe, though, is its variety of interesting drinks. Between the four of us, we ordered a Cold Cappuccino, Single Origin Hot Chocolate, and a Signature Hot Chocolate, as well as a cheesecake on a stick.
Raintree Restaurant
Finally, there's the beautiful and romantic Raintree Restaurant. Situated at the Borneo Convention Center Kuching, the view from here supposedly overlooks the Sarawak River.
However as it was night time (and raining heavily), we weren't able to see much.
Still, we enjoyed a delicious anniversary dinner here, dining on lobster bisque, slow cooked beef cheeks, and grilled sea bass. A great end to a memorable trip.
BONUS: Instant food that's almost as good as the real thing
You might not believe it, but in Sarawak, some of the instant food here can actually give the real thing a run for its money.
If you've tasted and loved the food in Kuching, these three instant food items will allow you to relive these moments over and over at home.
Sibu Instant Kampua & Kolo Mee
Both of these are packed in a transparent bag as per the image above.
Lee Fah Mee Sarawak Laksa
Seriously, even the locals swear by this brand, and on lazy days would make do with this. We can affirm its authenticity.
What's Next
This year, we're pretty tied up on all fronts. Personally, I started a content marketing agency, Jan is working on several projects at once, and we're also getting ready for the big day in October.
In between, we'll still be travelling a bunch, so keep a look out for our new posts coming very soon 🙂