Onwards to day one of our epic Jeju road trip itinerary!
As we began planning for our 12-day trip to South Korea, there was a quiet conviction that we had to visit Seoul, Jeju, and Busan, especially since all of us had not been to Jeju and Busan. Also because, everyone's (and I mean everyone) itinerary seem to revolve around these three golden places. So for once (or not), we decided to go mainstream and follow the crowd.
12 days may seem a lot to some, but to us who would much prefer to take time to immerse ourselves in the travel, fitting all three locations without having to rush things was quite a feat. We had to plan the mode of transport from city to city, and within city, find multiple accommodations, and make the most of our time there.
Thankfully, having four in the team made the job easier – we split the planning and eventually went on with flying budget between cities, to save time and money! If you're thinking, "why not train to Busan?", know that the price of taking the KTX is at least 20% higher than a budget air ticket, and much slower (flight from Seoul to Busan is about 1 hour, KTX from Seoul to Busan is about 2.5 hours).

Settling into Jeju
Back to Jeju – we flew in from Gimpo Airport in Seoul via T'Way Air, which took just 1 hour 10 minutes. We had stayed at Hongdae for the night before that, which made Gimpo Airport relatively near.
We arrived about an hour before nightfall, took the free shuttle bus to Lotte Rent a Car (10 minutes ride) and registered to get our car. The process was quick, and wasn't too complicated.
What was difficult however, was getting used to left-hand drive and the Korean car. We had initially planned for us to arrive at our accommodation in Seogwipo before it gets dark, but because we didn't factor in the orientation time needed, we ended up having to night drive for most of it.
So, a tip for you – if it's your first time with left-hand drive, be sure to give yourself some time to get used to it. For us, kudos to L for adapting quickly!
Another issue with driving at night was that it made it more challenging for us to find our accommodation. Like I mentioned about how navigating in Jeju with online maps can be a nightmare, we basically followed the in-car GPS, to the Airbnb address given.
However, upon reaching the destination, J and Y got down to check if that was the right house, but got barked at by dogs, and found out from the owner that we had to go through a tiny narrow road to get to the other side, or go around the estate to get to the right house.
Thankfully, we ultimately did find our way, but lesson learned: factor in more time for finding places especially in the night, or simply do that when the sun is still up. We always tried to follow this principle, but as it turns out, we will fail again later on (more on that in day 2).
As we arrived late, our Jeju road trip itinerary only truly began the next day.
Songaksan Mountain
We started our first day of adventure in Jeju with some bibimbap, and drove about an hour to Songaksan Mountain. Also known as 99 Bong (Peaks), Songaksan Mountain offers a scenic coastal drive, and some light trekking as part of the Olle Trail Route 10.
Walking through the mountain also brought history to life – spot cave trenches and underground bunkers that used to be occupied by the Japanese during their occupation period.
A return journey following the trail along the ocean would take about 1.5 hours, and perhaps another 30 minutes for you to take all the photos you want. Of course, the greenery, fernery, and scenery will easily make for your #instaworthy shots – so shoot on, like what we did!
If you're keen, there's also an opportunity for you to ride a horse around a small field, but we preferred to indulge in our photoshoot tendencies.
After completing our return, we took the staircase down towards the beach, and headed over to the restaurants at the side of the road for lunch. Needless to say, we stopped to take even more photos – after all, it's from a different angle now right?
When we finally got to the area with the restaurants, we realised there were many offering similar seafood soup sets, and they tried to lure us into their restaurants. My advice would be to look at the menu and decide for yourself if the food and the price point are suitable for you.
Otherwise, move on. We did just that, and found a nice restaurant serving various kinds of ala carte seafood soup.
Being the very first location on our itinerary, Songaksan Mountain set a pretty high benchmark for Jeju. Easy walks, endless photo opportunities, and everything you could ask for in a vacation.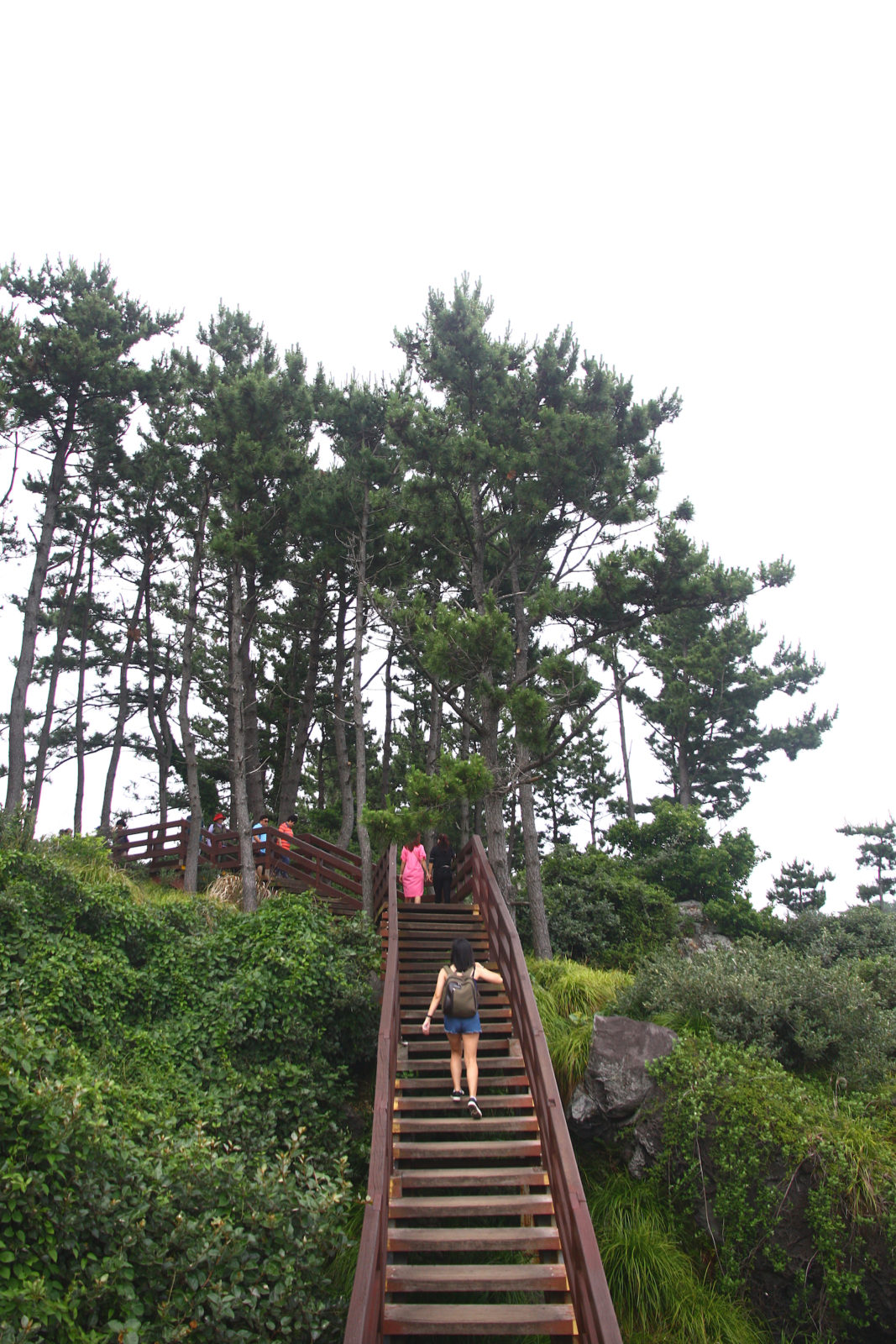 Jusangjeolli Cliff
As we left Songaksan Mountain with satisfied tummies, we couldn't wait to explore more. With a 30-minute drive, we arrived at Jusangjeolli Cliff.
The interesting pillars of rock formation with crashing waves makes it a popular tourist destination. The down side though, is that the narrow wooden platform was packed with people all wanting to take photos with the rocks.
Be sure to venture further in, along the wooden platform, to catch the cliff from different angles (and hopefully, avoid the crowd).
Jeongbang Waterfall
With another 40 minutes drive,  we arrived at one of the top three waterfalls in Jeju (the other two being Cheonjiyeon Waterfall and Cheongjeyeon Waterfall). Although Jeongbang Waterfall and Cheongjiyeon Waterfall are a mere ten minutes drive away from each other, we were running short of time, and decided only to visit the former.
Reason for our choice? Access to the Jeongbang Waterfall up close is one of the easiest – only a ten minute hike down well-constructed staircases. Moreover, the water flows right into the ocean, which is a rare sight in Asia.
Being able to take photos in such close proximity to the waterfall is certainly a major advantage of here, but be careful when treading through the rocks – they can get real slippery!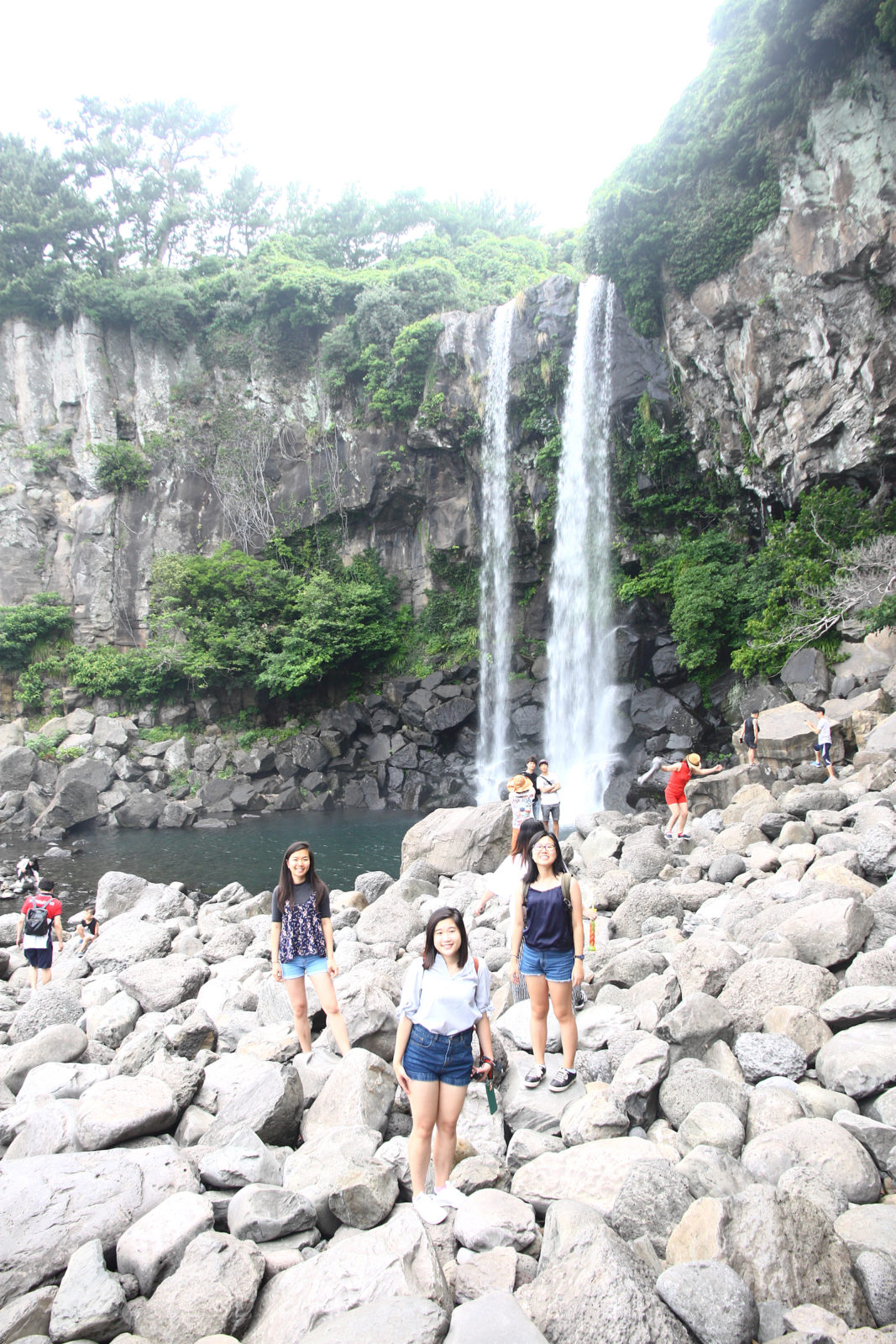 As if we haven't had enough of rocks today, we headed off to our final spot for the day before sunset – off to the Oedolgae Rock!
Oedolgae Rock
Just a mere 10-minute drive from Jeongbang Waterfall, the Oedolgae Rock is yet another famous tourist attraction. Interestingly, its name oedolgae means lonely rock, which is exactly what it looks like, in relation to the other rocks surrounding it.
Standing tall at 20 metres and surrounded by mini islands, it was said to be formed about 150,000 years ago alongside the volcano eruption which shaped what Jeju Island is today.
After having enough of the rock, we trekked further in to catch a better view of the sunset. The sun went down quite quickly, and all we saw was a pretty horizon.
As the sun went down behind us, we left for dinner near our Airbnb, and headed back for an early night. What a fulfilling first day it has been; till tomorrow, where more adventures await us!
Next up: Jeju Road Trip Itinerary: O'Sulloc Tea Museum, Innisfree Jeju House, Aewol (Cafe Monsant)