After two fruitful days in Hobart and Bruny Island, it was time for the real road trip to begin. Our next destination, Port Arthur Historic Site, was roughly 95km away, which seemed like a significant distance to us at the time.
Of course, we'd end up driving much, much further, but I'm getting ahead of myself.
Day Three: Port Arthur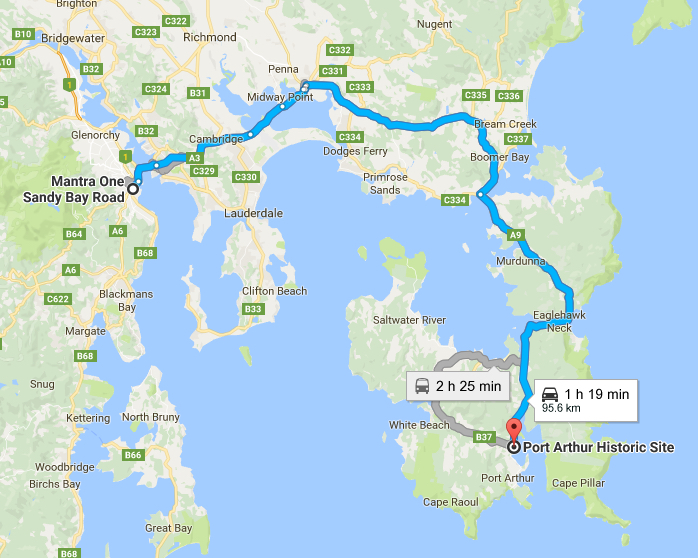 The Tasman Peninsula – where the town of Port Arthur resided – was full of sightseeing opportunities though, and was a must-visit item on our list. After grabbing a quick breakfast nearby, we strapped ourselves in and set off on the hour-long drive.
Port Arthur Historic Site is one of Tasmania's most popular attractions, and for good reason. Established as a penal settlement – an entire community of exiled prisoners – back in the 1830s, entire books have been written about its history as an "inescapable prison."
This was the only area where prisoners could catch a breath of fresh air. On the left, the punishment chamber that shut out every single peek of light.
In fact, our tour guide informed us that just 13 prisoners had managed to escape from Port Arthur in the 40 or so years of its existence. However, none of them were heard of again, so its highly doubtful they ever survived.
Sounds creepy? This is just one of the many "fun" facts and stories that your tour guide will regale you with throughout the Introductory Walking Tour, which is included with the cost of your Site Pass (A$37, and valid for two consecutive days) together with the Harbour Cruise.
There are other optional tours that you can purchase together with the Site Pass, such as the Point Puer Boys' Prison Tour, and the Isle of the Dead Cemetery Tour.
We decided to go for the latter tour, where we spent half-an-hour walking amongst the graves of dead prisoners and soldiers. Our tour guide spent a good part of this tour telling us the stories of certain interesting individuals. Highly recommended, if you're not squeamish about gravestones and all.
Aside from the stories, the ruins were a sight to behold. Be prepared to spend an entire day (or two!) wandering around. Walking through the old buildings felt like we were walking in the steps of the prisoners and soldiers who were once shackled here – a surreal experience.
Case in point: we had intended to visit other spots in the same day, but ended up spending the entire day at Port Arthur. Entirely worth it, though. The rest of Tasman Peninsula would have to wait for tomorrow.
For now, we checked into Stewarts Bay Lodge to spend the night. It was rated highly across several accommodation review websites, but we were still pleasantly surprised to see how spacious and comfy it was.
One night was not enough. The most beautiful thing about this place was the utter silence, as it was rather secluded. It was a thing of beauty.
The downsides of seclusion were the lack of street lights and dining options. As such, we drove out to The Fox & Hounds Inn for dinner. I went for the classics with a Carbonara, and Jan had the Fish & Chips.
Both were decent, but nothing to shout about. Still, it was enough for us to go to bed with our bellies full, and get a good night's sleep for the next day.
Next up: Tasmania Road Trip Itinerary, Day 4: Eaglehawk Neck and Swansea