Our time spent in Hobart and Mount Wellington had whet our appetite for greater and better things to come. And our day trip to Bruny Island on the second day definitely did not disappoint us.
Day Two: Bruny Island
By now we realized that, as is typical of the winter season, days were short and nights were long. So we got up nice and early to head to Kettering to take the Bruny Island Ferry.
What's exciting about the Bruny Island Ferry is that it is a car ferry. In other words, it'd take us – in our cars – over to the other side. Which is pretty cool.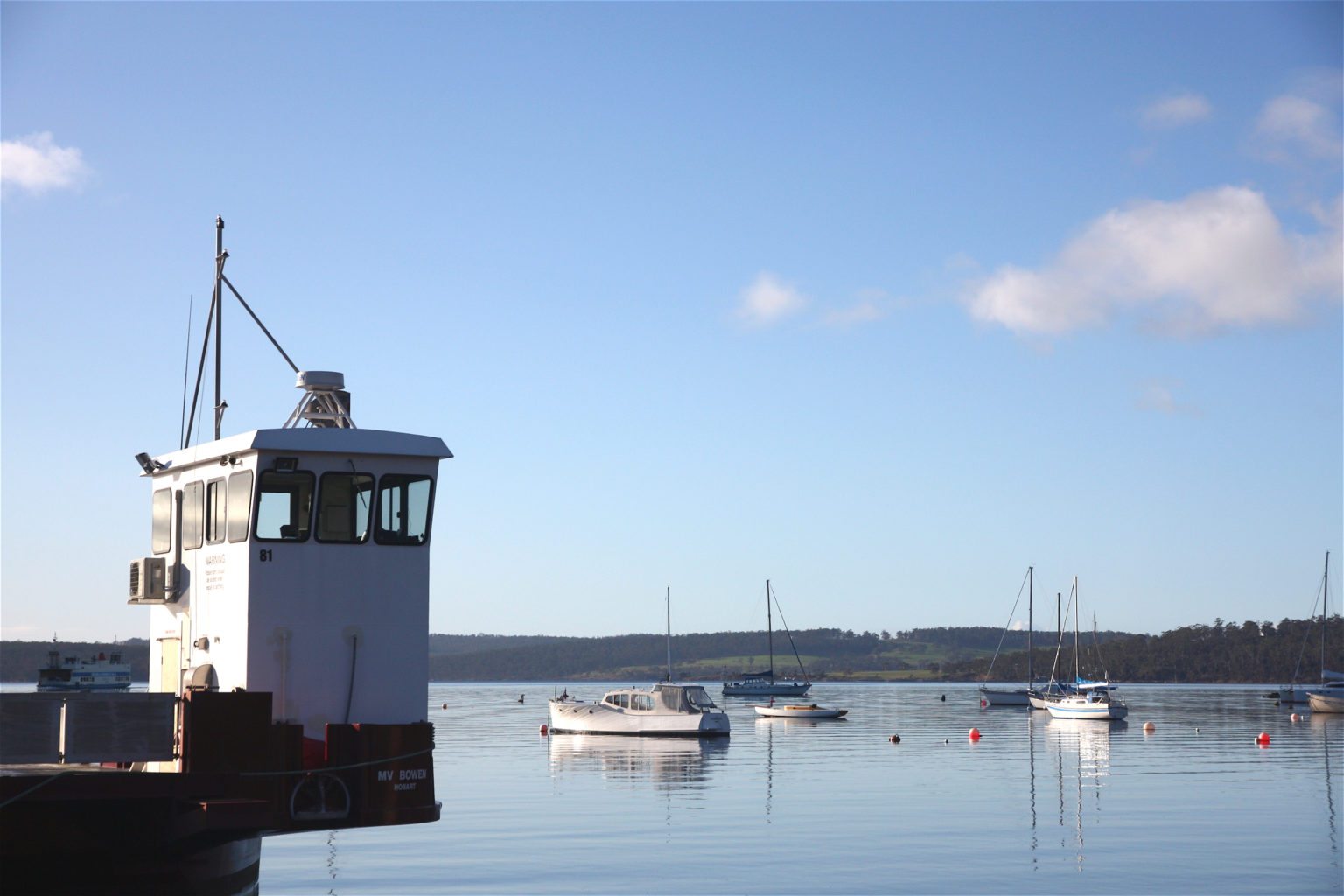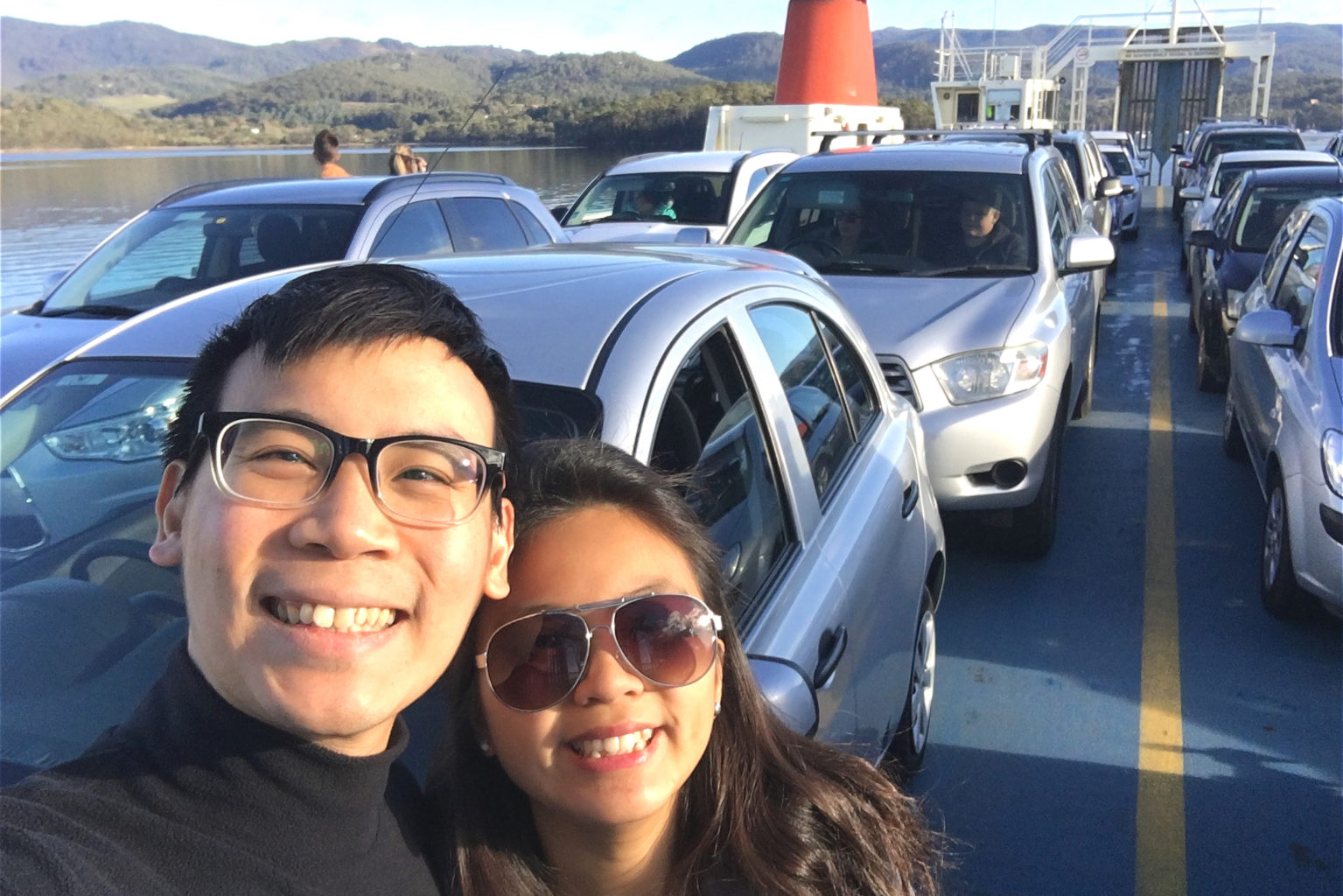 A return journey costs A$33 for normal-sized cars (that is, up to 6 metres long). Ferries come and go every 1 to 1.5 hours (timetable here).
After getting our car in line (yes, there's a queue!), we grabbed a quick breakfast at Mermaid Cafe, which is the only cafe there.
And then, one at a time, the cars started slowly driving onboard. We were close to the front of the line, which gave us a great view of the entire process:
Once we landed on Bruny Island, we headed straight to Get Shucked Oyster Bar for our first taste of Tasmanian oysters – apparently the world's finest.
When I say we, I mean me, because unfortunately Jan doesn't enjoy oysters as much as I do. And these were mouth-wateringly delicious.
Then it was on a narrow, 5km-long sandy isthmus called The Neck, which Bruny Island is most well-known for. And for good reason – the view from the lookout is spectacular.
Bus after bus of tourists kept coming, so we kept moving along. In any case, The Neck wasn't the only place worth stopping at. The entire island was teeming with beautiful fauna and river bodies, so we stopped at several random spots along the way to our next destination.
Next up, Cape Bruny Lighthouse. Perched atop an expanse of greenery, this lighthouse is Tasmania's third, and was built way back in 1838.
Looking out from the peak, it really felt like we were at the edge of the world.
Many of these photos were taken further down the grassy plains. Some of the "paths" are in fact not very safe to embark on, so be sure to look out for signs like the one above.
It was the perfect spot to just sit on the grass and watch the world float by. But we had another spot to visit, so off we went to Adventure Bay.
People usually come here to take the Bruny Island Cruises, which would take its passengers around the southern-end of Tasmania. We opted not to take it this time round due to our budget. Also, the tour guide we consulted back in Hobart had recommended the Tasman Island Cruises instead.
Our purpose here, instead, was to visit the Bruny Island Providore, a candy shop which was known for its yummy fudge.
Yes, we bought lots of fudge and chocolates – not all for ourselves, of course. We're not that greedy (I think)!
With that done, evening was descending on us, so it was back to Bruny Island Ferry Terminal and back home to Hobart.
We ended the day early we were pretty bushed by now – expect lots of walking while in Tasmania in between drives! Also because we were in for a long drive tomorrow, as we move over to Port Arthur – the first of many long, long drives.