Here we go. The beginning of our epic 10-day self-drive road trip across Tasmania – by far the most adventurous trip we've planned to date.
Our journey began when we flew from Melbourne to Hobart, Tasmania's capital and largest city.
We had initially considered taking the Spirit of Tasmania, a ferry that goes from mainland to the coastal city of Devonport in Tasmania. However, with limited time on our hands, we decided to go with a quick flight instead.
Day 1: Hobart
Unfortunately, we had a rather unpleasant start to the trip. While checking in our baggage via the automated system at Melbourne Airport, one of the bags got through but the rest got rejected. Subsequently, the gate was closed, and we were left with 9 bags, with 1 heading to the plane.
Despite this, the Tigerair staff refused to allow us to check-in the rest of the luggage, and gave us 2 choices: travel without our bags, or get on the next flight tomorrow. Not much of a choice, right? We cancelled the flight – the refund was in Tigerair credits – and gave our business to Jetstar instead.
Thankfully, we managed to shake it off and keep our spirits high. We arrived safely at Hobart International Airport late in the evening. The ride to our hotel, Mantra One Sandy Bay Road, was the Hobart Airporter (or Hobart Airport Shuttle) – we had booked it earlier that week.
The Hobart Airporter goes to a number of hotels, and must be reserved in advance from this website. Here are the hotels that it currently goes to: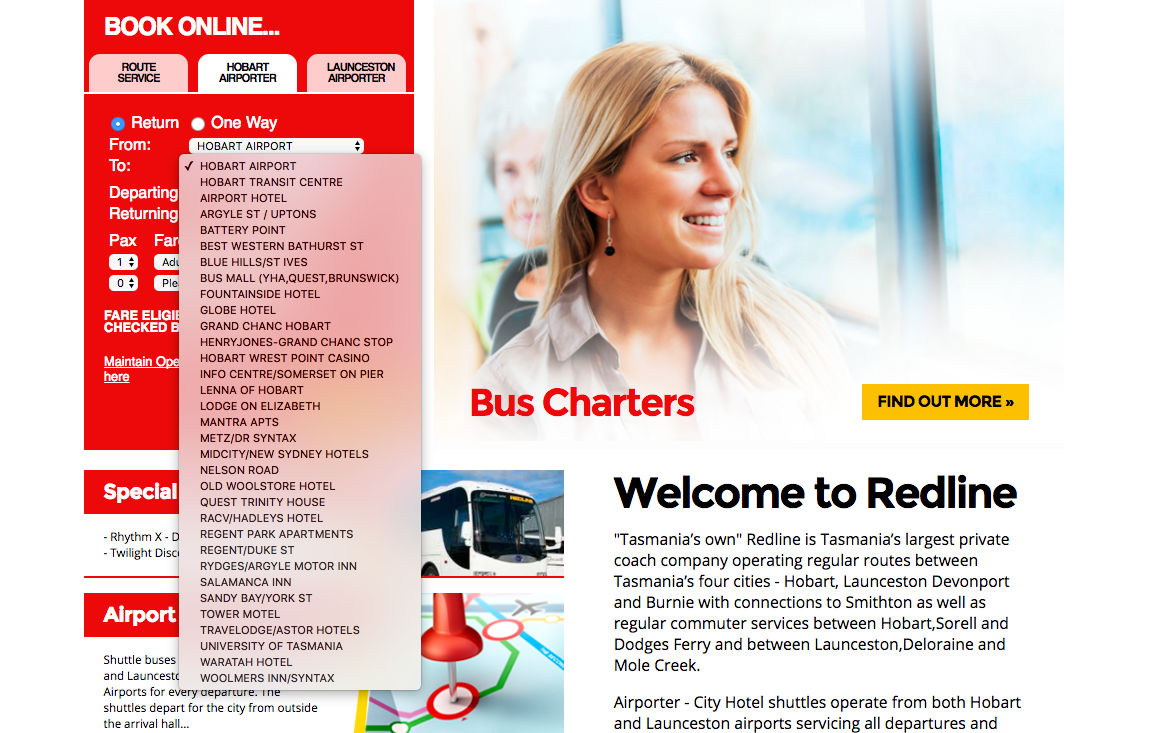 Because we arrived pretty late at night, the reception at Mantra One Sandy Bay Road was closed. A quick call later, though, and we were in.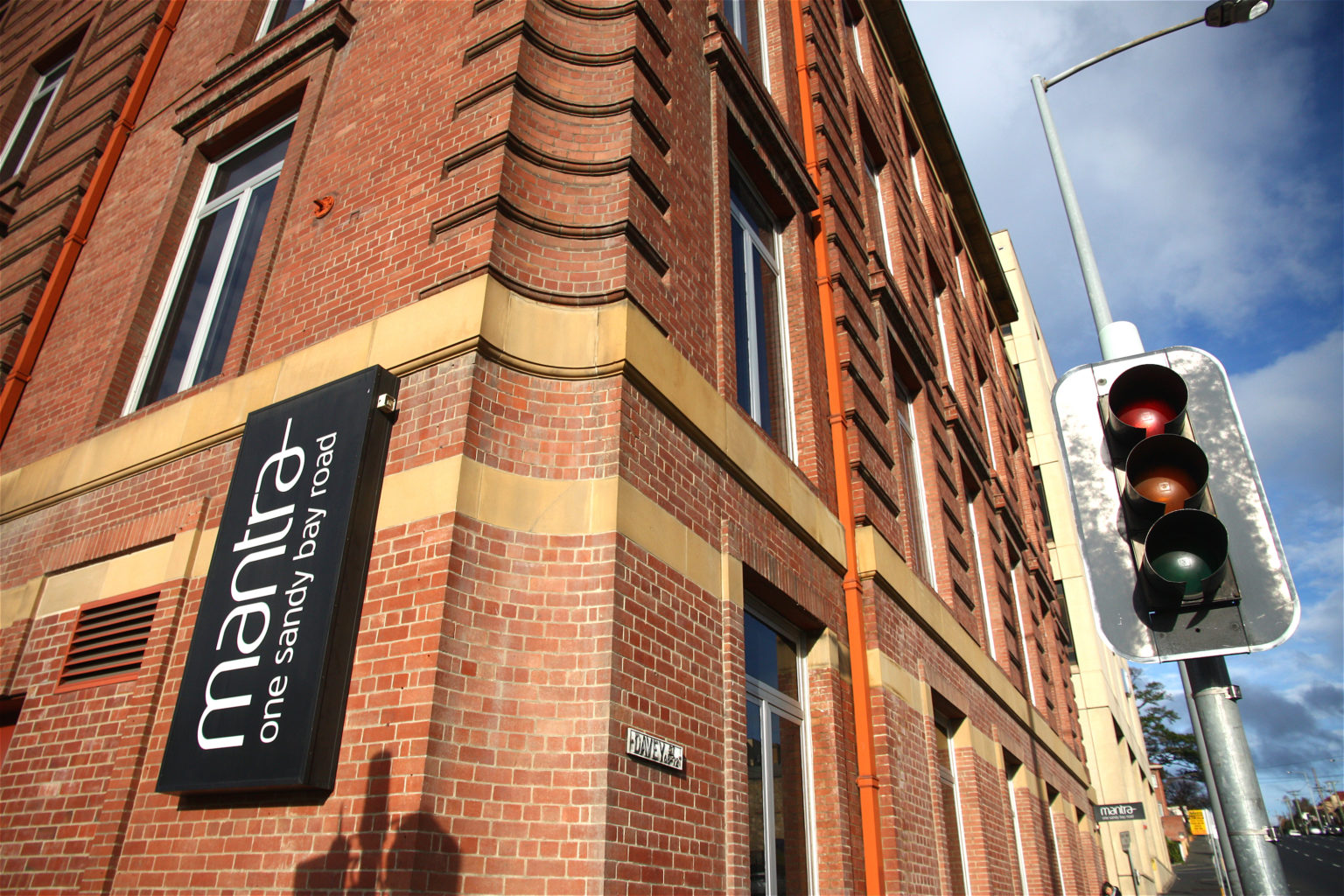 It was a long day, so we crashed pretty quickly.
Come morning, we decided to take a leisurely stroll around town to see what's what before picking up the rental car. The weather was surprisingly moderate – we were expecting it to be very chilly. I'd say that this is the best time to visit Tasmania, while the air is fresh and cooling.
Of course, it could just be that Tasmania has the world's cleanest air. Coming from humid and stuffy Singapore, it was a real treat for us.
Salamanca Square
Our first destination was Machine Laundry Cafe for brunch. Located in Salamanca Square, Battery Point, this place is half cafe and half laundromat – which was a bit odd. Thankfully, the delicious food made up for the dirty clothes churning around in washing machines next door.
And contrary to many reviews, we felt that their service was quick and friendly.
We went for the Eggs Royale and Ricotta Hotcakes, which were done perfectly, and washed it down with a Latte. The hotcakes were a bit too sweet for my liking, but suited Jan's sweet tooth just fine.
After that, we took a walk around Salamanca Square, which had a few cute little shops and bars. What stood out for us, though, was the general "feel" of the place, which was well-maintained and felt beautifully classic.
Franklin Wharf / Sullivans Cove
After wandering around a bit, we headed to Franklin Wharf and Sullivans Cove. The latter is famous for its whisky, but we decided to skip it in favor of getting high on the view.
We also picked up a few helpful maps and booked our Port Arthur Historic Site tour at a booth inside the wharf, so do take some time to check it out, especially if you're looking for Tasmania tours.
Eye candy consumed, we picked up our rental car at Budget Car Rentals, located on Harrington Street. Contrary to popular belief, rental cars are fairly cheap here in Tasmania. The base rate came up to just A$11 per day. After factoring in roadside assistance, excess reduction, and other admin fees, the total bill was A$450 for 9 days.
Note: don't skimp on the roadside assistance and excess reduction. Accidents are common here, in particular because the local wildlife (wallabies, crows, and so on) tend to wander onto highways and cause accidents. Make sure you're well covered and protected.
Once we were settled in, we set off towards our first major tourist attraction: Mount Wellington.
Mount Wellington
I had barely gotten familiar with the steering of our new rental car (a hardy Nissan Micra), and now we were about to take a trip up a narrow and windy mountain road. Sucker for punishment, I know.
As it turns out, it was pretty easy driving all the way up. Some of the turns are pretty sharp, but as long as you go slow and steady (not too slow, Australians tend to go pretty fast), you should make it to the top in one piece.
We were, however, completely unprepared for the weather we'd face at the summit of Mount Wellington. The roaring wind, for instance, almost slammed the car door back into my face when I tried to open it. Within 15 minutes out of the car, my fingers and ears were numb.
Yes, come dressed in your winter wear. Consider yourself warned.
On the bright side: snow. Lots of fluffy, cold, Christmas-white snow.
And of course, insanely picturesque views. I had never felt so small and so aware of God's majesty in my entire life.
As much as we wanted to stay, we made sure to leave the mountain before sunset, which is around 5pm in the winter. Driving on the mountain road in the daytime is one thing – I certainly wouldn't dare to in the pitch darkness of Tasmanian night.
On the way back, we dropped by Flippers Cooked Seafood at Sullivans Cove to get Tasmania's renowned fish and chips – the first of many.
Mmm. Sweet dreams.