Yesterday, we drove from Hobart to Port Arthur – roughly 95km – and spent the day exploring the historic site. Today, we were bound for another long drive up Tasmania's east coast.
Day Four: Eaglehawk Neck and Swansea
Our desination: the quiet and pretty seaside town of Swansea (not to be confused with Swansea in Wales. Or the football club).
This would be an even longer trip – around 156km, according to Google Maps:
2 hours straight behind the wheel seemed a bit too daunting for me, so we decided to hit up the other hot spots in Tasman Peninsula. These could be found around Eaglehawk Neck, the strip of land connecting Tasman Peninsula to the rest of Tasmania.
Eaglehawk Neck
Our first stop was the Tasman Arch, one of the four unusual geological formations found along the coast of Tasman National Park.
Similar to our experience at Bruny Island, it felt a lot like we were at the edge of the world (and if you look at the map, it pretty much is), with waves crashing in from the great beyond.
Then it was on to Devil's Kitchen and the Blowhole, which were a short 5-minute drive away.
The bird's eye view of Devil's Kitchen was awe-inspiring. You have to marvel at how the world was designed, wave by wave, rock after rock.
The Blowhole, however, was a bit disappointing. Rather than huge explosions of water, we were witness to a few occasional spurts instead.
The Tessellated Pavement was something else altogether. Over the years, the flat rock on Eaglehawk Neck had been intricately sliced into neat tiles, making it look almost manmade:
As we left Tasman Peninsula, we also dropped by the Dog Line and Officers Quarters Museum. Historically, Eaglehawk Neck was a natural gateway through which any escaping convict had to travel to escape Port Arthur.
Which is why the military decided to form a line of ferocious dogs across its width to deter – and catch – any potential escapees, as well as alert the guards. And these dogs look exceptionally fierce: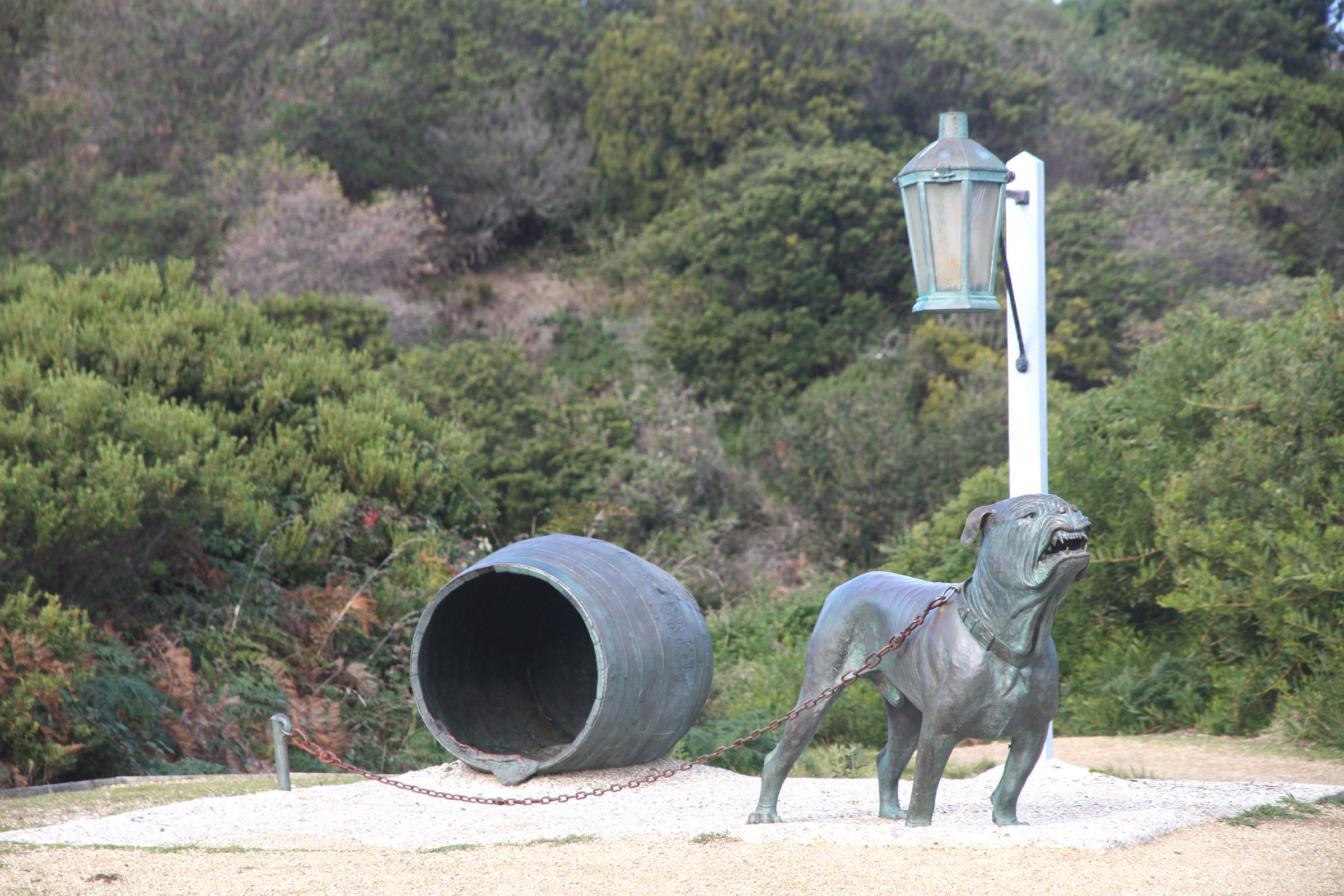 Legs stretched, we settled in for the ride up the east coast of Tasmania.
Thankfully, there were many photo opportunities along this scenic route, which we took full advantage of.
Also: sheep. Everywhere.
Swansea
Driving into the carpark of Swansea Beach Chalets, we didn't have much planned for this area. The idea was simply to relax, and that's exactly what we did.
Our quaint little chalet by the beach. Also, the resident dog:
Located on Jubilee Beach, we had an incredible view of Freycinet National Park from our front porch.
With a view like that, all we wanted to do was laze around contentedly.
Unfortunately, night was fast approaching, but we spent a good half an hour or so just gazing out at the rolling waves and clouds rushing by in the wind (and taking lots of photos, of course).
For dinner, we drove next door to Bark Mill Tavern and Bakery, the local haunt which is known for its delicious pizza. And it just so happened that pizzas were 1-for-1 that particular night. Blessings upon blessings!
We couldn't quite finish both pizzas (look at the size of them!), so we saved some for next day's lunch. Believe me, it ended up being more than enough.
Swansea was an excellent place to get some rest – something which we really needed for the next day's activities.
Next up: Tasmania Road Trip Itinerary, Day 5: Freycinet National Park