The last two days were spent exploring Hakodate, largely on foot (with the occasional tram ride). Now, we were going to begin our journey across Hokkaido, so an upgrade to wheels was in order. Our first destination: the hot spring town of Noboribetsu.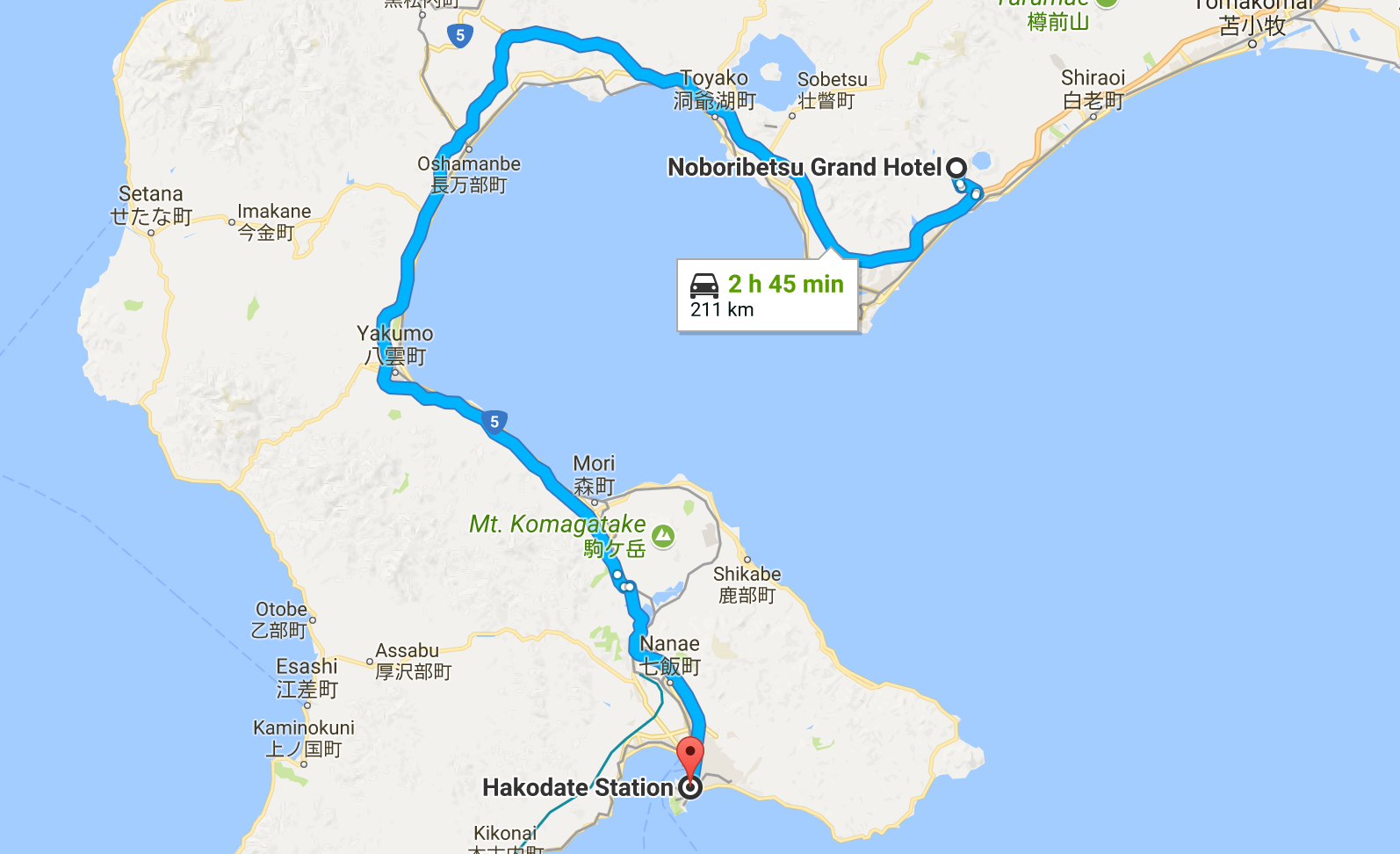 A note about car rentals in Hokkaido
Prior to the trip, we were having a tough time finding car rental information for Japan. Thanks to Bumble Bee Mum, we managed to find Tabirai Car Rental – a car rental company aggregator – whose website is fully in English, and offered even better rates than the individual car rental companies.
If you're going to traverse multiple cities in Hokkaido like we did, do take note that expressway tolls can add up to quite a bit if you're not careful. For convenience, make sure that your car comes equipped with an ETC unit, and get an ETC card from the car rental company as well.
The ETC system is similar to Singapore's ERP system – plug the card in, and you can simply drive through the toll gates with the fee being deducted immediately. On top of that, using the ETC lanes usually comes with a substantial discount to the original fee as well.
Here's how it worked for us: we booked a car that had both the ETC unit and card, and payment for the toll fees – that were deducted directly from the ETC card during our trip – came when we returned the car. So do remember to factor this cost in.
Also take note that if you pick up the rental car in one city and return it in another – we returned ours at New Chitose Airport –  you'll incur a "one-way fee" as well.
In total, our 8-day car-related costs came up to 54310 yen, or around S$660. Here's the breakdown:
Car rental cost (37000 yen) + One-way fee (9720 yen): 46720 yen
Toll fee (Noboribetsu to Sapporo, saved 1.5 hours): 2590 yen
Toll fee (Lake Akan to New Chitose Airport, saved 2 hours): 5000 yen
Lake Toya
With the car picked up, we were ready to head off to Noboribetsu. Along the way, though, we were held up at a number of rest stops because of the incredible scenery all around. Have an eyeful of this:
Though the Singaporean inside of us was raring to go, we couldn't help but be seduced by the gentle serenity that surrounded us constantly.
It was also the perfect opportunity to whip out the DJI Phantom 3 Advanced drone that my friend had kindly lent to us. Everything does look so much better from up there.
As much as we love to wander off the beaten path, it was time to get back on track. Before heading to Noboribetsu, our first stop was to grab lunch at the idyllic Lake Toya.
Located about 60km southwest of Sapporo, this freshwater lake spans about 10km in diameter, and was formed out of a powerful volcanic eruption many, many years ago.
In fact, the most recent eruption in this area was in 2000. Scary.
Tummies filled, we started off… and stopped again at Showa Shinzan, a curious volcanic lava dome situated next to Mount Usu. A Special Natural Monument of Japan that came to be in the early 1940s, Showan Shinzan can be considered a mountain, standing at 398 meters high.
Surrounded by grassy plains, it was the perfect place to stroll around and chill out post-lunch.
Oh, and we had our first taste of the famous Shiroi Koibito ice cream here as well, which was amazing.
Noboribetsu
With that done, we finally arrived at the main volcanic region that we intended to visit. The town of Noboribetsu is known for its main attraction, Jigokudani (or "Hell Valley"). Take a guess as to why its named after hell itself:
Here's why: everywhere that you look, yellowish volcanic gas is spewing from the rocks and boiling spring water. And the smell of sulphur is unbearably strong. If you're sensitive to odours, you might want to bring a handkerchief along.
Still, the view is pretty amazing.
One thing that I was really looking forward to was to soak my already-tired feet into the bubbling spring water at the River Oyunuma natural footbath, which was just down the river from Jigokudani.
Unfortunately, the path to the river was closed off due to some volcanic activity in the area.
We grabbed some photos anyway.
After that, we drove around Noboribetsu for a bit, but besides Hell Valley there's really nothing much to do around here. Our day done, we headed to Noboribetsu Grand Hotel to check in and get dinner.
We chose this particular hotel because it came highly recommended – most of all, for its hot spring (or onsen). Boasting all nine different types of water – each containing a different mineral – it was simply hard to beat. All guests get free access to the hotel's baths.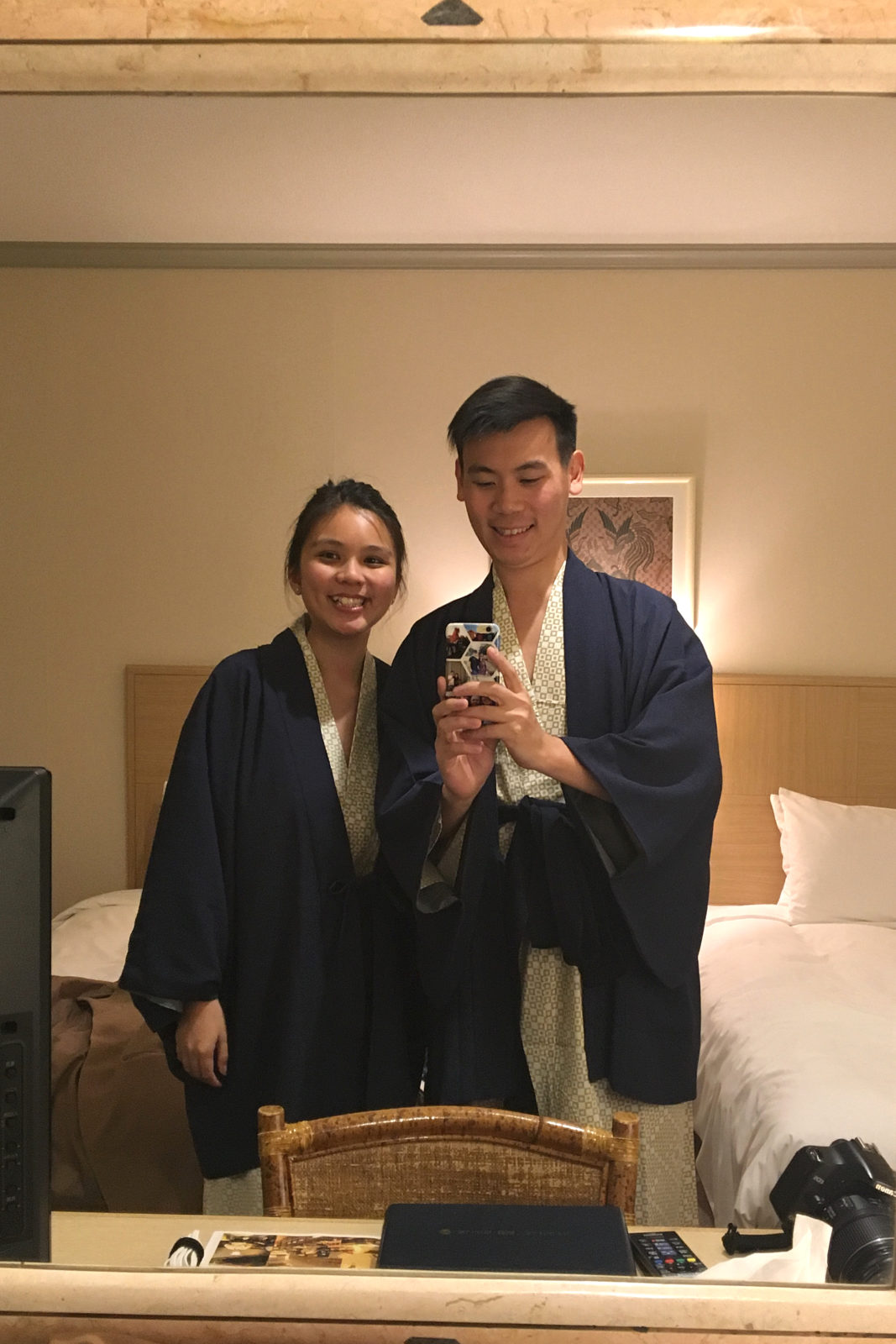 I particularly enjoyed the open-air baths, though it did take a while to get comfortable not wearing anything in the open. Sitting back in the steaming hot spring water while breathing in the cool mountain air – it was a stunning experience. Highly recommended!
We also thoroughly enjoyed the breakfast experience – but we'll leave that till tomorrow.
Loved the pictures? Then you'll probably this full-on, photos-only version of our Noboribetsu experience. Check it out!