TL;DR: He proposed!
This is for you who are curious about how the proposal happened, or even for those who are planning your own surprise proposal. Here's our story – we hope it will inspire you!
This is also for us to remember this special day, for a really long time to come.
Caught by surprise
The entire proposal came as a great surprise because of so many reasons. First, I was fixated on the idea that Daniel would do it at the end of 2017. Secondly, this was supposed to be my graduation, and also our anniversary trip.
So naturally when he suggested that he plan our Mount Fuji day and accommodation, I assumed that it was like a grad gift (more on that later)!
Most of all, I had warned him multiple times not to propose in Japan because everyone else seems to be doing that. Even while we were road-tripping in Hokkaido, I asked him a few times whether he's thinking of a proposal. His reply would always be something along the lines of "don't know" or "see how it goes."
For the record, that doesn't mean he has anything planned, because for him, whether there's something or nothing, the response would always be the same!
(Sometimes I wonder how Daniel can stay so disciplined as to not reveal any aspects of his surprises for me – he has a near clean record of successful surprises)
This time round, little did I know that he had started planning everything since six months ago.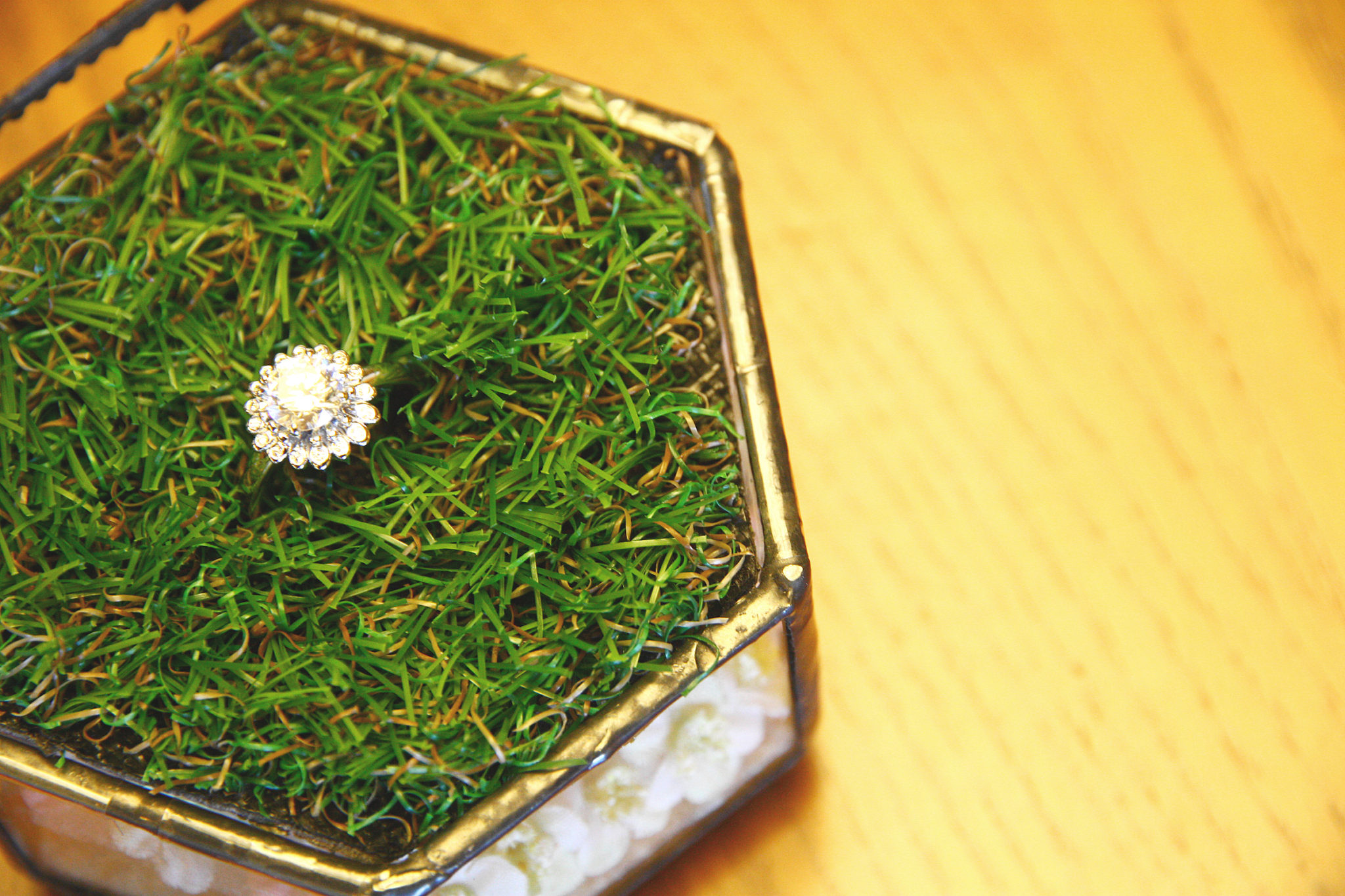 I found out later that Daniel had already enlisted the help of our church friends to get my ring size, five months ago. I can barely recall them getting me to try on a ring, so yes, they were pretty skilful – thanks Linettey and Lilly!
At the same time, Daniel also got our other church friend to give some input on the ring design, and to make a prettier box for it – thanks Charmy!
We are truly grateful to have great friends who share their joy in our journey together.
The Proposal Story – Prologue
After our 10-day road trip in Hokkaido, we headed to Tokyo. We had planned to stay a night in Shibuya, Tokyo, before heading off to Lake Kawaguchiko at Mt Fuji for another night, and then back to Tokyo before flying back to Singapore. I was particularly excited for our trip to Mt Fuji, because I knew I didn't have to navigate, or think about any logistical issues. I just had to follow D around, and enjoy myself.
Also, Daniel had hinted about the awesome view at the hotel he booked and how we could definitely take lots of wonderful photographs. I couldn't wait to immerse myself in it!
With all that buzz building up, we left for Mount Fuji. It was not until we arrived at Kawaguchiko station that I fully understood why people talk about praying for clear skies when visiting Mount Fuji.
Our first sight of the mountain was completely disappointing, with clouds covering the entire peak.
Nevertheless, we went right to Kozantei Ubuya ryokan, left our luggages, and went on with our plan for the day. We headed to the Kawaguchiko Natural Living Center first, then to the Fuji Shibazakura Festival.
Thankfully, much of the clouds cleared as the day went by, leaving pockets lingering around, and increasingly hopeful hearts for a completely clear view of the mountain. After all, that's what we were there for – Mount Fuji! You can read more about our fulfilling day around Lake Kawaguchiko here.
We reached back and checked in to our room 501 at about 4.45pm. It was huge, incredible, and I recall us expressing more wows as we explored more of the room!
Here's a tour around our crazy room, which I found out later, is the only unit in the ryokan with such a layout, and could only be booked if you contact the staff directly.
The ryokan staff had previously told us that there would be complimentary cocktails served till 6pm at the lounge. I was super looking forward to having them, because it's not everyday that we get to have cocktails. Besides, who doesn't want a nice drink with a million-dollar view?
But before that, some photos was definitely due. A perfectly clear view of Mount Fuji was in front of us, and we wanted to catch Mount Fuji and Lake Kawaguchiko before the sun went down.
No props, no frills, just a genuine heart
Halfway through our little photo-taking session, Daniel asked me to change into the yukata (Japanese clothing) provided in the room so we can take more photos. He had been talking about taking photos in the yukata for some time now, since he booked this room months ago, but I still found it strange that he was so excited about it. I mean, Daniel is not usually the kind who would be thrilled by such things.
Moreover, I have been getting him to take photos quickly so we can go down for the cocktails. Hence, when he suggested we should wear the yukata to take photos, I was initially reluctant, but relented later on because he has been anticipating it for months now, and I didn't want to break that. (I realised now, that what he was excited (or nervous) for wasn't that much about the yukata, but the proposal! Ü)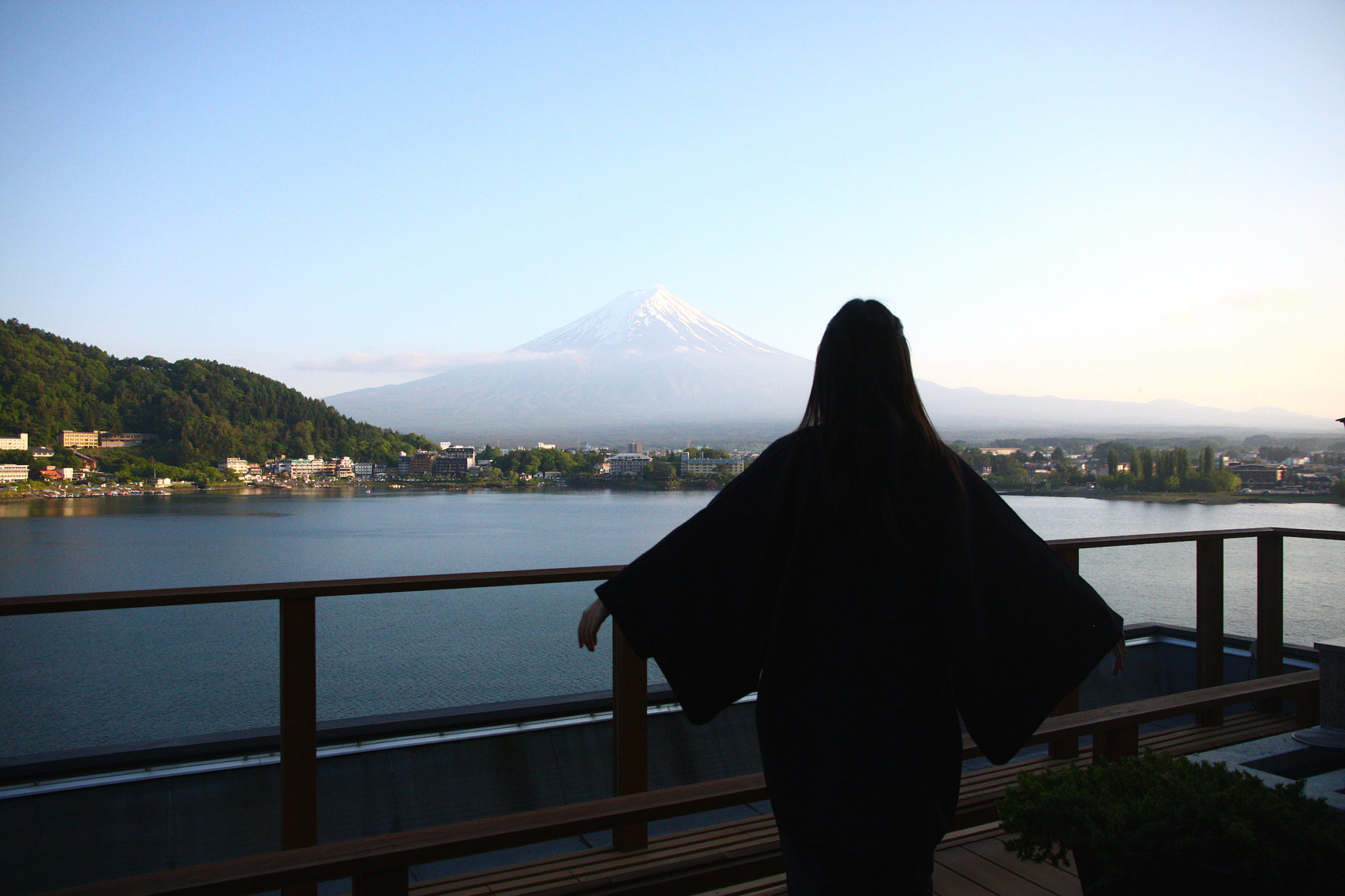 Anyway, we got changed, and headed back to the balcony to take more photos. As it was relatively dark already, he has been trying to figure out the settings of the camera for some time now, along with his remote trigger (which he bought chiefly to take photos here).
We tested out some shots with different poses, and then he held both of my hands. In my head I was thinking, "oh this is a new pose, should be quite a nice couple shot," and I continued smiling at the camera.
Suddenly, Daniel said to me, "I am going to propose now, okay." According to him, my first reaction upon hearing that was a mega-surprised "oh no!" Honestly, I thought he was kidding because I was not expecting it at all. He even had to convince me by showing me the ring, which he took out from I've no idea where. I didn't see anything remotely close to a ring or a ring box at all the entire trip – he showed me later how he hid the ring in a box that could be disguised as a card holder, and the ring box in a clean sock.
I gradually began to believe him once the ring was out, and his nervousness revealed itself. I had never seen Daniel so nervous before, and that was pretty amusing to me! He started telling a story and sharing his feelings. And the whole time, I felt, for the first time, like I was in a dream. I didn't know how to react, nor what to say, except to go like "yes!" when he popped the question.
When I had finally awoken from my crazy dream, all I felt was pure bliss. Everything about my proposal that I fantasised about previously faded away in light of the immense love and commitment that Daniel had given me. It was like catching a greater glimpse of God's love, more so than usual.
I discovered much of his preparatory work thereafter, leaving me in greater awe of how he could have hidden all these from me for such a long period of time. He also revealed how much he prayed for perfect skies and views the entire day, and we're so thankful for God's blessings!
By then, the sun was setting, and we headed for dinner at Kozantei Ubuya's restaurant, which Daniel had arranged for previously. During dinner, some staff surprised us by dressing as Mount Fuji, gifted us with a wine, and took photos for us. And during breakfast the next day, they gave us a frame with well-wishes and the photo we took the previous night. They made us feel like they genuinely celebrated with us. Thank you Kozantei Ubuya!
Epilogue – Our Next Step
For Daniel and I, marriage has always been our natural next step ever since we started dating. We're thankful for the many who believed in us, journeyed with us, and built us up along the way. As we prepare to finally step into marriage, we would love if you could pray alongside us. And if you would like us to pray for your relationship, or know more about our experiences, feel free to let us know as well Ü