Phuket is one idiosyncratic destination, home to towns like Patong – known for its rather wild nightlife scene – on one extreme, and the quiet, olden-dayish Rawai on the other.
The former is a popular "escape" destination for world-weary office workers, but in typical fashion we decided to spend more days in more peaceful settings, such as Phuket Old Town, Coral Island, and Kamala.
Rawai
For this trip, we decided to go with the latter first. The Airbnb apartment we had booked in this part of town was, for lack of a better word, amazing. Check it out below:
The swimming pool was to be shared with another two apartments besides us, but as fortune would have it, neither was around most of the time. Which means we had the pool to ourselves. Score!
One of the advantages of being in one of the most remote and quiet towns in Phuket is that transportation laws are generally quite lax in these parts.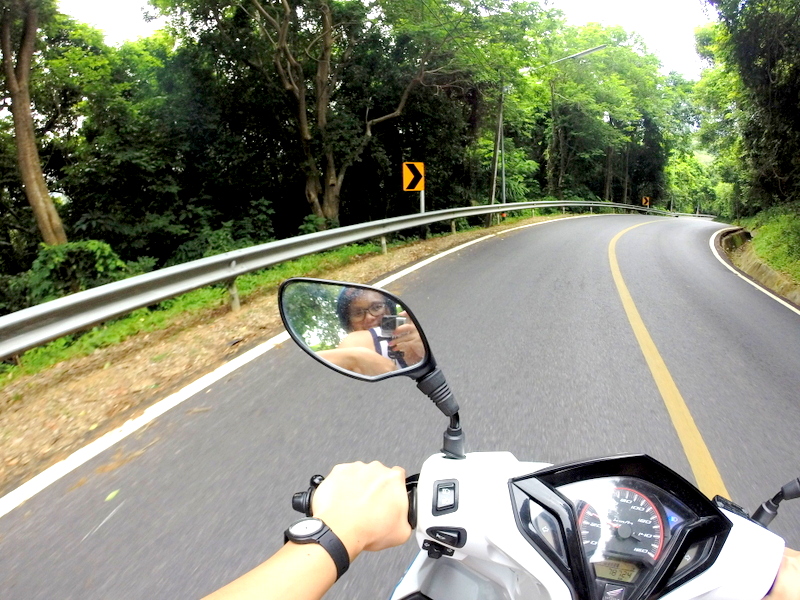 So we decided to rent a motorbike – despite the fact that none of us had ever ridden one before. Speeding along the mountain and beach roads – all the way up to Promthep Cape – with the wind running through our hair was quite an exhilarating experience.
Coral Island
Of course, no holiday in Phuket would be complete without a day-trip out to the picture-perfect islands. From Rawai, we took a longtail boat to Coral Island for a full day of sun, sand, beach, and tiny fishes.
Phuket Old Town
Old stuff tends to be viewed as inferior. As one of my most beloved TV characters of all time would put it: New is always better.
Sorry bro, gotta disagree with you there. Trends come and go, new becomes old, and old becomes a breath of fresh air to the new generation.
Or, to counter that point: Old is gold.
These were the thoughts that ran through my head as we visited southern Phuket's lovely Old Town. 
What caught my attention were the assortment of stores on display – the new and the old blending together in perfect harmony. Modern juice bars sat next to worn out tire shops. Indie cafes shared customers with classic coffee shops. It was a sight to behold.
Nowhere was this more apparent than at our lunch destination, the much vaunted Blue Elephant Restaurant. Its beautiful vintage exterior contained all the luxuries of the modern century, foremost of which was excellent Thai food (naturally).
The places that we went to for entertainment similarly stood out from their run down environments – novelties for the modern generation. And we thoroughly enjoyed them, though it did take a while for us to get the hang of correctly taking photos in Baan Teelanka, Phuket's own upside down house.
Once we did, though, it was a world of fun! Gravity is great to mess around with.
Siam Niramit was another must-visit tourist attraction. The acting, music, waterworks, and lighting were spectacular, and definitely worth the entrance fee. It was certainly one of the biggest stage productions I've seen.
Patong
Finally, we reached the rowdy town of Patong. While known for it's raucous nightlife scene, that's not what we came here for.
Upon reaching our Airbnb apartment, we immediately started searching for the nearest quality restaurants. Typical. And the driver we hired was the perfect accomplice, bringing us to what I still believe is the best noodle place in Asia. Not even kidding. Check this out: 
The fried rice was pretty decent as well.
Unfortunately, I can't remember the exact location, but it will live on in my memory.
But first, we managed to squeeze in some more water sports. The waters were more unruly than in Hua Hin, but it just made it even more fun.
The rest of Patong wasn't too interesting. Shopping wise, it was nowhere close to Bangkok, and besides the beach there was not much in the way of scenery.
So on the recommendation of our driver, we headed out to Saphan Hin – a quiet and relatively unknown area in the southern parts of Phuket Town – for a breather.
Kamala
The next couple of days were spent in Kamala, a far more peaceful stretch just north of Patong and a perfect way to cap off the trip. We had managed to land a great discount on Agoda to stay at Novotel, and it was luxury itself.
My goal in life: to stay in an apartment right next to the sea, so I can hear the crashing waves as I drift off to dreamland. Maybe one day.
To close, here's a photo with our awesome driver. If you see this, thanks for making our trip even more wonderful than it would have been: